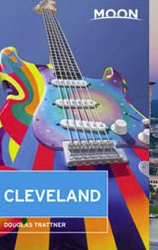 In the third edition of
Moon Cleveland
,
Scene
food critic and cookbook co-author Douglas Trattner explores Northeast Ohio's each and every nook and cranny to find every quintessentially Cleveland experience. The recently updated guide features insider's information on topics such as hot air ballooning in Amish Country, fishing for walleye on Lake Erie and riding through town on a Segway.
In
Unique Eats and Eateries of Cleveland
, Fran Golden and David G. Molyneaux take readers on a gastronomic tour of the city Golden calls an "emerging foodie capital." The book provides an overview of Cleveland's diverse food trucks, growers, markets, pubs, chefs and lore. The authors even touch on the decades-long brown ballpark mustard debate.
At 7:30 p.m. on Friday, May 31, at
Visible Voice Books in Tremont
, Trattner, Golden and Molyneaux will discuss their books at a special book release party.
"The fact that Cleveland is becoming known as a destination with diverse arts and culture and a wide array of dining options isn't lost on us here in Tremont," says Visible Voice owner Dave Ferrante. "This is a city filled with artists — some paint, some play music, some write books and some are chefs."
The event will include food from Fahrenheit and Crust. Admission is free.
Sign up for Scene's weekly newsletters to get the latest on Cleveland news, things to do and places to eat delivered right to your inbox.