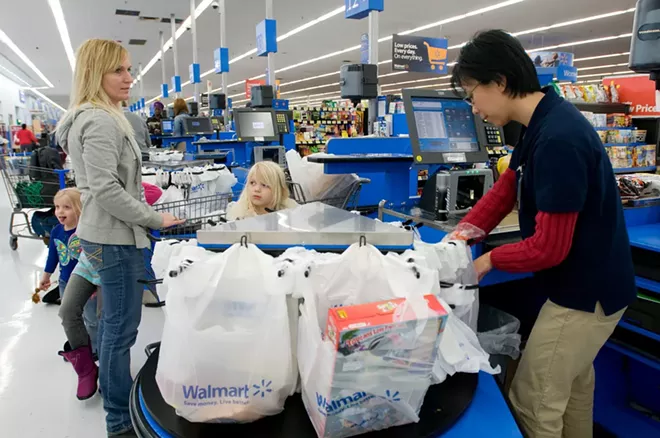 As expected, Cuyahoga County Council passed a plastic bag ban at its meeting Tuesday in an 8-3 party line vote. Republicans Jack Schron, Nan Baker and Michael Gallagher voted against.
Though the ban was slated to go into effect Oct. 1, its lead sponsor Sunny Simon agreed to push back the start date to Jan. 1, 2020, to give retailers more time to adjust. (Retailers are the ones who will be fined for violations, enforced by the county's consumer affairs department.)
But it's unclear if the ban will ever take effect. At the statehouse, Republicans are actively working to preempt the ban and others like it with a resuscitated piece of legislation that would prevent communities from regulating or levying fees on auxiliary containers.
The bill's co-sponsor, George Lang, represents a district that's home to a plastic bag factory. He has said that the legislation is supported by the Ohio Beverage Association, the Ohio Chamber of Commerce and "other politically influential business groups."
Sunny Simon has said she isn't surprised the statehouse, as currently constructed, is "bought and paid for by the plastic and chemical industries with no consideration to the long-term damage and impact to the environment."
If no preemptive bill is passed in Columbus, the local ban will help to reduce the 320 million plastic bags that Cuyahoga County residents use every year. It will apply primarily to supermarkets and will not affect bags for restaurant orders, newspapers, dry-cleaning, meat, pet waste, prescriptions, or partially-consumed bottles of wine. Consumers will also not be fined for plastic bags that they bring with them.
Sign up for Scene's weekly newsletters to get the latest on Cleveland news, things to do and places to eat delivered right to your inbox.