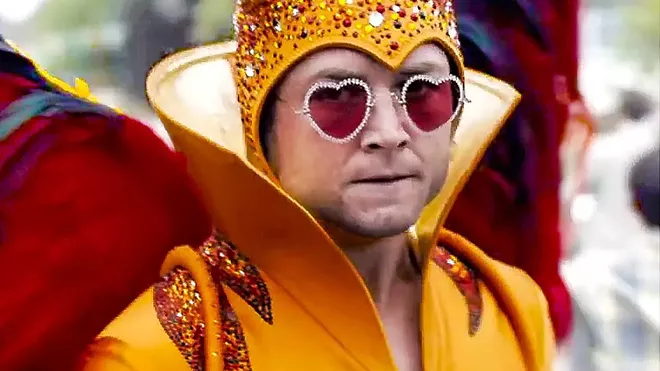 Throughout a career that stretches back decades, flamboyant singer-songwriter Elton John has sold millions of records and played to stadiums full of fans. A Rock Hall Inductee, John recently announced he's going to retire from touring, leaving behind a remarkable legacy, and the new biopic
Rocketman
touches upon some of that history.
Too much of the movie, however, dwells on John's battle with drugs and alcohol, and the film, which opens area-wide on Friday, loses its narrative thread about half-way through.
At the start, the film chronicles John's unhappy childhood and shows how he could play by ear at an early age. His mother (Bryce Dallas Howard) sends him off to take piano lessons, and John excels.
The film doesn't follow a strict chronology, and we see a young John singing songs he hasn't yet written (or, more accurately, songwriter Bernie Taupin hasn't penned yet). While that muddles the storyline, the movie is billed as a "fantasy-musical" rather than a straightforward biopic, so its lack of regard for historical accuracy, though often offputting, can be considered artistic license.
Inspired by the likes of Elvis Presley and Buddy Holly, John (Taron Egerton) begins playing rock 'n' roll at the local pub, and his band embarks on a tour supporting acts such as the Isley Brothers and Patti LaBelle and the Bluebelles. After he answers an ad for musicians, John meets Taupin (Jamie Bell) and begins writing music to his lyrics.
The two instantly clique, and like a couple of music nerds, they sing the lyrics to the country tune "Streets of Laredo" together at their first meeting at a diner.
After a career-defining performance at the Troubadour in West Hollywood, John's career takes off. But instead of showing how 1970's
Elton John
would lead to major albums such as
Tumbleweed Connection
,
Madman Across the Water
,
Honky Chateau
,
Don't Shoot Me I'm Only the Piano Player
,
Goodbye Yellow Brick Road
,
Caribou
and
Captain Fantastic and the Brown Dirt Cowboy
, the movie instead focuses on John's issues with addiction and his failed relationship with abusive manager John Reid (Richard Madden). It also tries to tie many of the album's songs to things John experienced, something that's rather confusing since Taupin wrote most of the lyrics.
While John really did have these issues, the film dwells on them to the point that the scenes of John drinking to excess and snorting coke become redundant.
It's not giving anything away to say that the film takes a turn in its final act and shows how John hits rock bottom only to wind up in rehab where he tries to kick the drugs and alcohol and confront issues from his childhood. Near its end, the film returns to the music and includes a remarkably faithful recreation of "I'm Still Standing," John's 1983 hit that served as a comeback. It's one of the movie's best moments.
Throughout it all, Egerton is terrific as he channels John effectively, singing and dancing his ass off while still managing to convey the pain and suffering that John experienced as he struggled to deal with the trappings of fame and fortune.
Much like the recent Queen biopic
Bohemian Rhapsody
,
Rocketman
takes several liberties with John's history. Unlike
Bohemian Rhapsody
, which still managed to highlight Queen's artistic accomplishments, including its show-stopping performance at Live Aid,
Rocketman
doesn't highlight John's musical achievements, something it could've easily done while still presenting itself as a "fantasy-musical" complete with some pretty fantastic choreographed dance routines (one of which even takes place underwater).
Sign up for Scene's weekly newsletters to get the latest on Cleveland news, things to do and places to eat delivered right to your inbox.