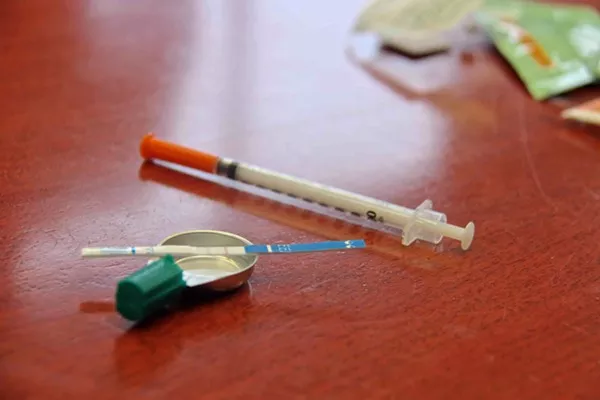 Photo via Wikimedia Commons
Following an uptick in fentanyl-related overdose deaths in Cuyahoga County — including
eight deaths
over Memorial Day Weekend — public health officials are
advising
individuals affected to pick up free fentanyl test strips.
The
15,000
free test strips can detect when the deadly drug is laced with substances such as cocaine, heroin and methamphetamine. Because they are being offered at healthcare centers, street drug users will not have to worry about law enforcement getting in the way of testing the drugs, Cuyahoga County spokeswoman Eliza Wing
told
Cleveland.com.
Overdoses in Northeast Ohio have been particularly grueling in recent weeks, with at least 18 overdoses occurring since May 20, prompting Cuyahoga County Medical Examiner Dr. Thomas Gilson to issue two public health alerts this week encouraging users to get help.
"I'm deeply concerned about the number of overdose fatalities we've seen within the past week. Additionally, we are seeing a high percentage of African American victims — 50 percent," Gilson
said
in a press release. "While we are still gathering information, early indications are that many of the fatalities are a result of fentanyl/crack cocaine. We are coordinating efforts with other major metropolitan areas within Ohio to see if they are experiencing the same."
Fentanyl test strips are available at
Circle Health Services
(12201 Euclid Ave, Cleveland, OH 44106) and
Care Alliance Clinic
(2916 Central Avenue Cleveland, OH 44115).
Anyone struggling with opioid addiction should contact
Project DAWN
for information at 216-778-5677. Free Naloxone kits (a drug that can reverse the effects of an overdose) are available for individuals at risk of opioid overdose.
In addition, a crisis hotline offered by the Alcohol, Drug Addiction and Mental Health Services (
ADAMHS
) Board of Cuyahoga County can is available at 216-623-6888.
Sign up for Scene's weekly newsletters to get the latest on Cleveland news, things to do and places to eat delivered right to your inbox.