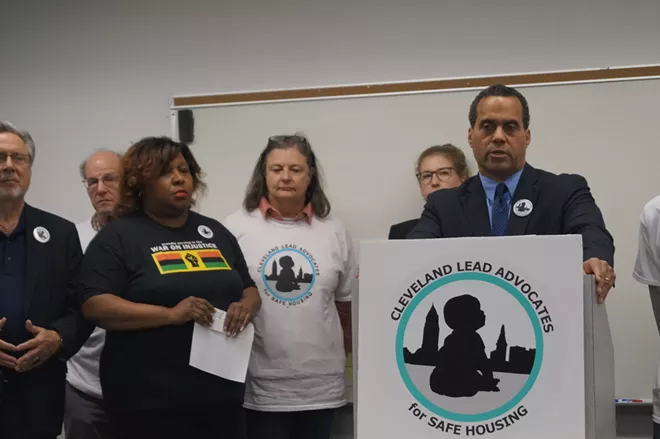 Sam Allard / Scene
Members of CLASH at press conference, (6/5/19).

If we're going to try to protect children from lead poisoning
, read a handout at a Cleveland Lead Advocates for Safe Housing (CLASH) press conference Wednesday afternoon,
we need to do it right.
That was more or less the thesis from the activist coalition two days after Cleveland City Council introduced its much-anticipated legislation to combat the city's lead poisoning crisis. CLASH, whose existence prompted city leaders to take the lead crisis seriously, now want to continue pressuring city council to improve the legislation they've initiated.
At the headquarters of the Northeast Ohio Coalition for the Homeless, CLASH members lauded council's bill as a step in the right direction, but drew attention to the distinctions between their own proposal and council's and reasserted their commitment to a citizen ballot initiative.
"We made a promise to the people of Cleveland when we started this coalition," said Milo Korman, a CLASH member representing the Cleveland Democratic Socialists of America who is helping to coordinate signature gathering, "that we would not stop fighting to stop lead poisoning until we had a law that was in place and on a path toward enforcement."
Korman said that the only way to get real, substantive change in Cleveland was through the voices of organized citizens. He said that the 10,000-plus signatures and the hundreds of volunteers who worked on CLASH's first ballot initiative earlier this year was a testament to the issue's importance and residents' desire for action.
"The people of Cleveland have made it extremely clear that this is something they are willing to spend their time and effort to fight for," he said, "and we'll do everything we can to uphold our side of that fight."
CLASH leaders Jeff Johnson, Yvonka Hall and Rebecca Maurer all stressed that they were encouraged by City Hall's legislation and that they didn't care how a bill was ultimately passed, or who got credit for it, as long as it was strong, effective, sustainable and enforceable.
"We are delighted that city hall has finally come around to joining us on the proactive side," said Johnson, referencing the legislation's core idea of mandating lead-safe certification in homes
before
children are poisoned, not after. "But we know how legislation works. There are three phases: introduction, review and passage. We're at step number one, and we don't know what interests may come into play to water down this version."
But even if the bill isn't watered down further, the city's legislation contains several flaws that CLASH worries could pose enforcement problems and will limit its effectiveness as a driver of systemic change.
CLASH attorney Rebecca Maurer outlined the distinctions between the coalition's proposal and the city's bill.
Chief among them, she said, was that the city's bill, as currently written, would be subject to a constitutional challenge based on criminal penalties proposed for negligent landlords. Maurer said that CLASH, which initially proposed criminal penalties, recognized the constitutional issue as they redrafted legislation for their second ballot initiative. They have now proposed a civil penalty structure that rises to criminal penalties only once a warrant is obtained. Maurer noted that in other cities where lead laws have been passed, there has been an eagerness from some parties to see the bills challenged and overturned.
Two of the other key differences are that the CLASH proposal includes day care centers as properties that would be subject to a lead-safe mandate — the city's does not — and that the CLASH proposal doesn't have a gradual rollout period. CLASH's stipulates that all residential properties built before 1978 would be required to obtain lead-safe certification by March, 2021. The city's bill would
begin
to implement certification in 2021, but would roll out certificates by zip code over two years. Full implementation wouldn't arrive until March, 2023.
Additionally, CLASH wants to ensure that lead-safe information is publicly available and accessible via a searchable website; that the lead-safe status of rentals is advertised at the point of sale; that the "gold-standard" lead risk assessments are required, as opposed to the less stringent "clearance examinations" required in council's bill; and that tenants are sufficiently protected by ensuring that landlords provide housing or rent abatement during repairs.
Maurer and Johnson were pleased to note that council's bill includes the CLASH recommendation to increase rental registration costs (from $35 to $70), but warned that the bill does not specify how the increased revenue should be spent. In CLASH's view, this increase should be invested back in the lead program, possibly distributed as grants for low-income landlords to assist in the abatement of properties. If this isn't specified, the increased revenue will go back into the city's general fund.
If council does not amend their bill this summer, CLASH will file their petitions in August as previously planned, aiming for their ballot measure to appear before voters in the 2020 primary election. Johnson noted that they retained the services of a law firm this time around to ensure that their petition language was in order.
"We got thumbs up," Johnson said, "so we're good to go."
Johnson said that people have asked and will continue to ask, why CLASH is hitting the streets again, especially when City Council clearly has indicated its desire to make change.
"Just remember that we got here because for so long, City Council has done nothing," Johnson said. "We're encouraged by their legislation, but we're not getting overly excited. We represent the people, and we're going to keep the pressure on."
Sign up for Scene's weekly newsletters to get the latest on Cleveland news, things to do and places to eat delivered right to your inbox.