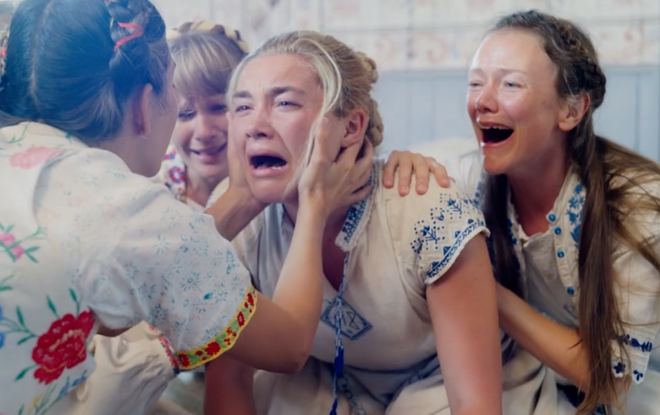 A24
Florence Pugh digs deep.
Of all the extravagant, ritualistic horrors that ultimately befall the five grad-student protagonists in
Midsommar
, very few occur under cover of darkness. Writer-director Ari Aster, whose debut
Hereditary
was
among the best films
of 2018, likes to explore sharp divisions between brightness and darkness. But he now almost seems to be testing himself. How scary can he make something without the psychological reinforcements of nighttime and the terror it evokes? The answer:
very
. The film opens today in wide release.
Dani (Florence Pugh) is already on shaky ground with her boyfriend Christian (Jack Reynor) when an unthinkable tragedy upends her world in the first ten minutes of the film. This horror, incidentally, does occur at night. The pre-credits storyline is a film unto itself and is knotted with tension and anxiety and grief.
Christian, then, who had been planning to break up with Dani and travel to Sweden for a mid-summer festival with his grad student buddies, brings Dani along. Abandoning her would have been barbaric. Dani's presence, though, harshes the vibe of Mark (Will Poulter), who is eager to loose himself upon Scandinavian women; and Josh (William Jackson Harper), who intends to study the festival for his thesis. Pelle (Vilhelm Blomgren), in whose home village the festival takes place, is curiously transfixed by Dani and delighted that she's joining the group.
No one will be surprised by the direction the film takes: Pelle's commune reveals itself to be something on the order of a pagan cult. Because their community is so small, inbreeding has disfigured the gene pool. Thus, the village relies on outsiders to keep their population robust. That's all in the background of the "festivities" which begin with a shocking ritual suicide and descend from there.
But again, the most nightmarish of these rites, including the occasional depravity of the third-act, all happen in broad daylight. Moreover, the villagers do not present as sadistic psychopaths. They are smiling, serene and generous hosts.
(SPOILER IN THIS PARAGRAPH):
Midsommar
includes one of the more disturbing sex scenes in memory. But it is neither violent nor especially depraved, (no more so than medieval bedding rituals, at any rate). It is nevertheless supremely weird! Christian, under the influence of a mind-altering tea, is lured to a cabin to impregnate a young woman who'd selected him as a mate. Joining them in the cabin is a chorus line of naked women, happily singing some Swedish folk song. As the act progresses, one woman kneels to sing directly into Christian's face. Another woman pushes his bare ass to encourage his thrusting. Again, this is not scary, per se. But the images will sure stay with you!
Florence Pugh
arrived with a bang
in 2017's
Lady Macbeth
, and she continues to solidify herself as one of the best young actors around. She is a furnace of emotion in
Midsommar
and carries the film on her back. The uncertainty and horror of the audience is a mirror of her own.