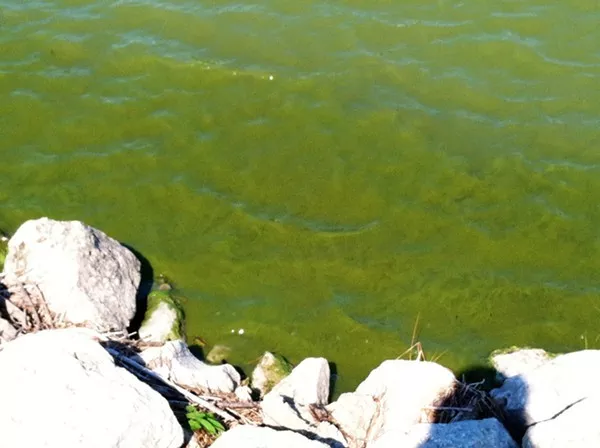 The National Oceanic Atmospheric Administration said early this week that two kinds of algae are already present and in bloom in western Lake Erie, with winds expected to push them eastward as they grow throughout the summer.
Forecasts had predicted
one of the worst summer blooms in recent history on the lake thanks to historic spring rain levels. The planktothrix bloom recorded in Sandusky Bay recently appeared first, with a microcystis bloom appearing the week after, the
Toledo Blade reported
.
"Satellite imagery from 6/28 shows cyanobacteria is present in Lake Erie's western basin, touching the shoreline of Maumee State Park
and extending 6 miles offshore from Maumee Bay," the NOAA's bulletin noted. "Recent sampling (6/17) indicates measured toxin concentrations are below detectable limits throughout the bloom extent. A cyanobacteria bloom of Planktothrix is present in and spilling out of Sandusky Bay. No other blooms are present in Lake Erie."
These would be the two most harmful kinds of algae blooms, and though they are two distinct varieties, they both produce microcystin, a liver toxin. High levels can cause a whole bunch of disastrous effects, which is why the massive 2014 bloom caused a
three-day ban on water usage in Toledo.

<!—StartFragment—>
Sign up for Scene's weekly newsletters to get the latest on Cleveland news, things to do and places to eat delivered right to your inbox.