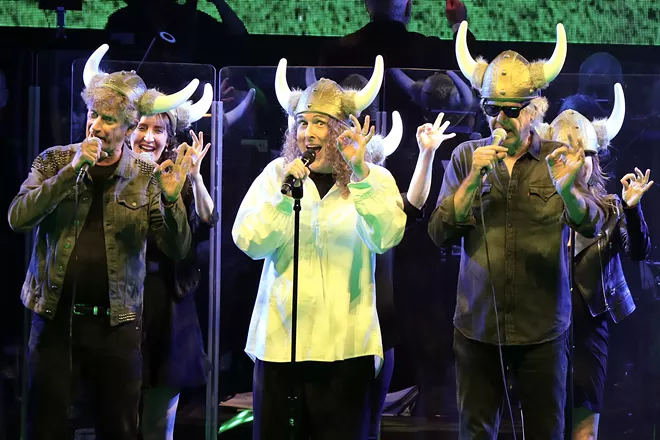 Prior to coming to town on his current tour, pop-rock satirist Weird Al Yankovic said that playing with a 41-piece orchestra on his Strings Attached tour is "pretty stinking majestic." He wasn't kidding. He brought the "majestic" show to the State Theatre last night for a thrilling 90-minute performance that included costume changes, backing singers and members of the 501st Legion dancing in full Star Wars regalia.
It was a spectacle and then some. You can see a slideshow of photos from the concert
here
.
The show started with a medley of "I Lost on Jeopardy," "I Love Rocky Road" and "Like a Surgeon" that allowed Yankovic to show off his musical range. He delivered "I Lost on Jeopardy," a parody of the Greg Kihn Band's "Jeopardy" as a doo-wop number and sat on a stool and snapped his fingers while delivering the refrain. He turned things up a notch for "I Love Rocky Road," which parodied Joan Jett's "I Love Rock n' Roll," and he let the orchestra do its thing on "Like a Surgeon," a parody of Madonna's "Like a Virgin" that found him capably slipping into falsetto as the orchestra's string section chirped with enthusiasm.
Yankovic and Co. sounded like a country swing band on the twangy "The Biggest Ball of Twine" in Minnesota," and Yankovic capably rapped his way through "Word Crimes," a synth-heavy parody of Robin Thicke's "Blurred Lines" that found Yankovic explaining the difference between contractions and possessive pronouns.
Yankovic donned a red smoking jacket and walked the aisles of the theater as he crooned his way through "One More Minute," and he then turned up the synths again for hip-hop inflected tunes such as "Don't Download This Song" and "Tacky."
In one of the 17-song set's funnier moments, Yankovic explained that "Harvey the Wonder Hamster" inspired the entire tour and described the track as something that he's never played before because he "didn't want to it in concert if he couldn't do it justice" with an orchestra. He then blew through the whimsical tune in about a minute and proceeded on with the rest of the show.
The concert's one lull occurred during the long-winded "Jackson Park Express," a tune that came off as if it were a castoff from a Broadway musical.
Yankovic, however, got back on track with "Smells like Nirvana," his parody of Nirvana's "Smells Like Teen Spirit" that found his backing singers dressing like cheerleaders to mimic the Nirvana music video. His bandmates wore flannel shirts, and Yankovic donned a blonde wig to make himself look like the late Kurt Cobain.
Yankovic and his bandmates then put on yellow hazmat suits for "Dare to Be Stupid," a Devo parody, and pumped up the synthesizers once again for "White & Nerdy," a parody of Chamillionaire's "Ridin'" that found Yankovic riding on a Segway for the song's start. The set ended with a rendition of "Amish Paradise" that again put the orchestra to good use, and Yankovic put on a fake beard and fedora for the tune.
After making fun of James Brown's cape routine, Yankovic returned for a Star Wars-centric encore that included hits "The Saga Begins" and "Yoda," tunes that respectively parody the classic songs "American Pie" and "Lola." The aforementioned Storm Troupers emerged to deliver a choreographed routine during "Yoda," bringing the concert to a climactic conclusion.
The 41-piece orchestra opened the show by capably playing orchestral renditions of the theme songs from
Mission: Impossible
and
Star Wars
. "After a brief intermission, Weird Al will be here for a spectacular evening," said the conductor upon the 25-minute set's conclusion. Yankovic's performance certainly lived up to that description.
<!—StartFragment—>
Sign up for Scene's weekly newsletters to get the latest on Cleveland news, things to do and places to eat delivered right to your inbox.