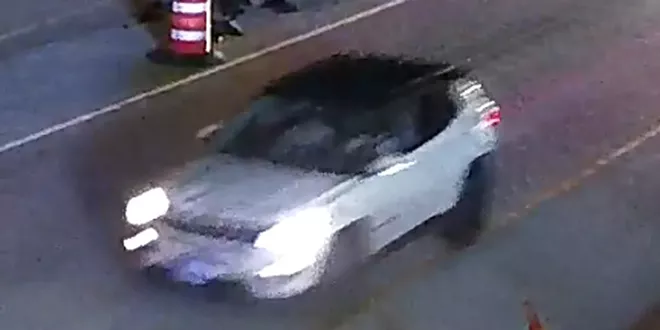 Photo via Cleveland Police
Police are still searching for the driver involved in the hit and run of a Cleveland officer Saturday morning.
The on-duty cop was taken directly to the hospital after being crashed into at the corner of West 9th and Superior Avenue. The officer received multiple broken ribs and bruises from the 4 a.m. incident.
Cleveland police have released images (see above) and information about the SUV on the run, which is reported as a white 2019 Jeep Compass. Investigators believe the front end of the car should be in rough shape.
The 3rd District Detective Bureau is urging any person with information to call their direct line at 216-623-5318. A $5,000 reward is also being offered by Crime Stoppers, which can be reached at 216-25-CRIME.
<!——StartFragment——>
Sign up for Scene's weekly newsletters to get the latest on Cleveland news, things to do and places to eat delivered right to your inbox.