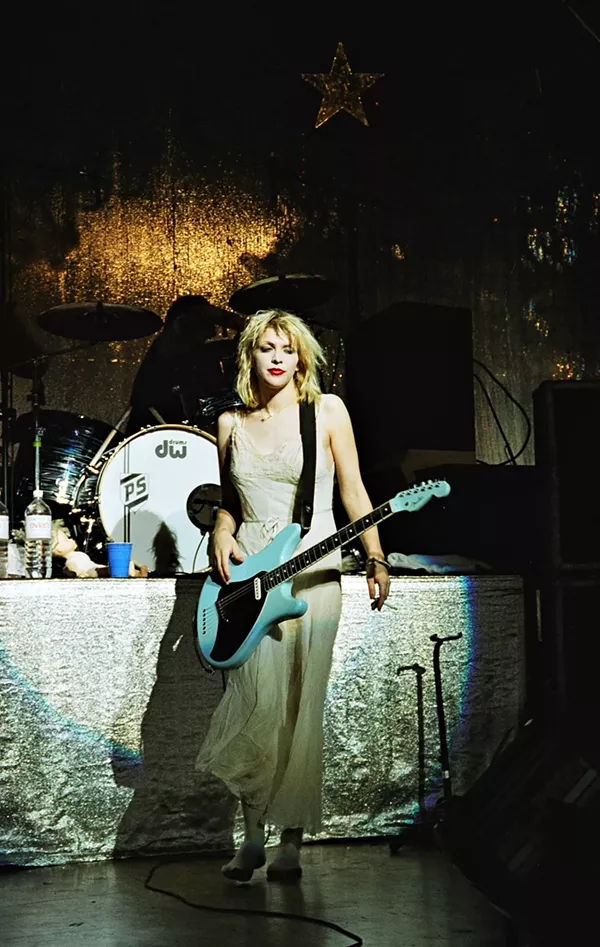 John Patrick Gatta
Hole's Courtney Love.
Several of the Mahoning Valley's best and most-experienced photographers will be featured in
First Three Songs, No Flash: From Hometown Heroes to Hall of Famers
, a concert photography exhibition that opens on Saturday at
Trumbull Art Gallery
in downtown Warren.
The exhibition runs through Aug. 24, and it coincides with the 10th anniversary of David Grohl Alley.
The show feature images from the 2001 David Growl Alley dedication ceremony that Grohl, a Warren native and the frontman of the Foo Fighters, attended, and it includes images from his subsequent visits to the area.
The exhibit also includes photos of stars such as Elton John, Rod Stewart, Tony Bennett, Yo-Yo Ma, John Mellencamp, Joe Walsh, KISS, Paul McCartney, Bruce Springsteen, Neil Young, George Clinton, Van Morrison, Dave Matthews and Willie Nelson, all of whom have performed in the area in the past 15 years.
The list of local photographers participating in the exhibit includes Bob Jadloski, William D. Lewis, R. Michael Semple, Daniel Montecalvo, John Patrick Gatta, Chara Politte, Geneva Anderson, Eric Broz and Erika Rock.
Andy Gray, entertainment editor of the
Tribune Chronicle
, curated the exhibit.
An opening reception takes place from 5 to 8 p.m. on Saturday. FM Acoustic, a duo featuring former Mom's Apple Pie bandmates Bob Fiorino and Bob "Rollo" Miller, will perform. Admission is free.
The exhibition will also include an auction and raffle for a chance to win original photos autographed by Leavittsburg native and 14-time Grammy winner Jerry Douglas, John Mellencamp, Tony Bennett, Michael Stanley and others. All proceeds will go to TAG and David Grohl Alley.
Gallery hours are noon to 4 p.m. Tuesday through Saturday.
Sign up for Scene's weekly newsletters to get the latest on Cleveland news, things to do and places to eat delivered right to your inbox.