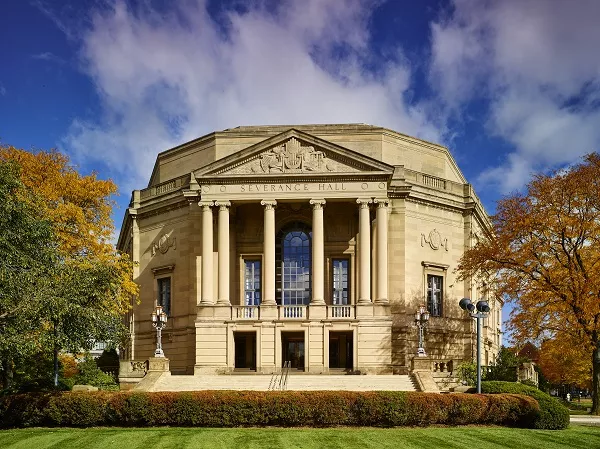 Photo by Roger Mastroianni, Courtesy of The Cleveland Orchestra


The Kent/Blossom Music Festival
presents offerings from both students and faculty this week. Pianist Spencer Myer joins the Miami String Quartet for a concert of Haydn, Beethoven, and Bruch on Wednesday, July 10 at 7:30 pm in Kent State University's Ludwig Recital Hall. Tickets available
here.
The Festival kicks off its Young Artist Series this weekend with four performances spanning a diverse array of works. It all starts on Friday, July 12 at 7:30 pm, with works by Poulenc, Dvořák, Frederic Glesser, and Mendelssohn, performers to be announced. Saturday's concert on July 13 at 2:00 pm includes music by Herzogenberg, Moszkowski, Joaquín Turina, and Ernst von Dohnányi. Sunday at 2:00 pm brings works by Ginastera, Gordon Jacobs, Karl Pliss, and Shostakovich. The weekend concludes on Sunday at 7:30 pm with music by Katherine Hoover, Bruch, Dvořák, and Mozart. All concerts take place in Ludwig Recital Hall except Sunday's matinee, which will occur at the Hudson Library and Historical Society. All Young Artist Series concerts are free.
The Cleveland Orchestra's Summers@Severance
series opens on Friday, July 12 at 7:00 pm with Mahler's Songs of a Wayfarer, a passionate tribute to love and loss. German baritone Ludwig Mittelhammer is the featured soloist, and Franz Welser-Möst will lead the orchestra. Beethoven's dark and brooding String Quartet No. 15 (arranged for string orchestra) completes the program. Tickets are available
here.
The Orchestra heads outdoors on Saturday, July 13 at 8:00 pm at the Blossom Music Center in Cuyahoga Falls. Jahja Ling conducts Mussorgsky's "Dawn on the Moskva River" (from Khovanshchina) and Prokofiev's Piano Concerto No. 3, performed by composer and pianist extraordinaire Conrad Tao. Tchaikovsky's Symphony No. 4 concludes the evening. You can purchase tickets
here.
Music in the Circle
, a new international festival in Cleveland's University Circle, presents an interesting program of Mendelssohn's Piano Trio in d, Chris Neiner's Infinite Spinning, and Brahms' Piano Quartet No. 2 on Thursday, July 11 at 7:30 pm in CIM's Mixon Hall.
The organization's Gala Concert fittingly features Andrew Norman's Music in Circles, along with Dvořák's Piano Quintet No. 2 and Saint-Saëns' Carnival of the Animals. The fun goes down in Gartner Auditorium at the Cleveland Museum of Art. Tickets to both events are still available
here.
For more concert events and details, visit our Concert Listings page at
ClevelandClassical.com.