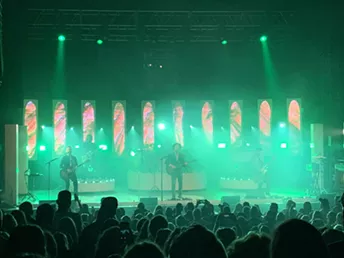 Here's one way of looking at it: Lord Huron does "pop psychedelia" better than other bands that may unexpectedly be considered contemporaries in the scene: MGMT, Tame Impala, Grizzly Bear. This narrative begins with the band's studio output, which comes complete with a bizarre fictional backstory and multimedia wormholes—and ultimately lands onstage at places like the Agora in good old Cleveland.
Lord Huron
visited Cleveland last year
after an extended bout away from our city. It was a great show in support of the band's latest album,
Vide Noir
. This time around, the band had a chance to back away from the greener material and explore some of the earlier stuff.
And yet. With the
Vide Noir
crest placed prominently above the stage, it was clear upon arrival that Lord Huron would be hewing closely to its newer album. And that's fine—it's a solid album, even if it moves away from the calypso percussion that gave the band such an edge in its early days and bleeds more visibly into standard 4/4 rhythms and heavy snares. When the band veered into
Vide Noir
territory during last night's lengthy set, the crest lit up and the lighting designer draped the stage in emerald green.
But the main takeaway is that the band provided most songs on the setlist some extra space to breathe. Moments like "Secret of Life" into "Emerald Star" showed the power of the band's recent songwriting and, dare I say it, a penchant for jamming things out a bit. It felt more
developed
than last year's show in some places. Mysterious interludes of windchimes and feedback strung each song together, and the band slowly built a dreamy tower of psychedelia throughout the night. Behind the six musicians, lighting rigs appeared like stained glass or airplane windows. The displays included serene desert landscapes, borderline religious iconography, hypnotic lava flows. We were cast adrift in the skies on Kahuna Airlines, and frontman Ben Schneider knew that he had the seemingly sold-out crowd in the palm of his rustlin' cowboy's hand.
This is the other half of the coin in my argument: Not only can Lord Huron play up the high weirdness of its psychedelic bent onstage, but the band is undeniably poppy in its approach to songwriting and even nominal fame. Women screamed like it was Shea Stadium all over again. Men held tall cans of cheap beer aloft. We filled in the "ooh-ooh-ooh" in "Time to Run" when Schneider backed away from the mic. This is not a show that's going off the rails like your typical forays into improv-laden live music; rather, this is more ritualistic and grounded.
Lord Huron is a highly self-aware band, almost to the point of shtick. But then, I ask, isn't that the point of most psychedelic art? This is world-building. This is narrative. This is a hypnagogic criss-crossing of the divide between ego and no-ego.