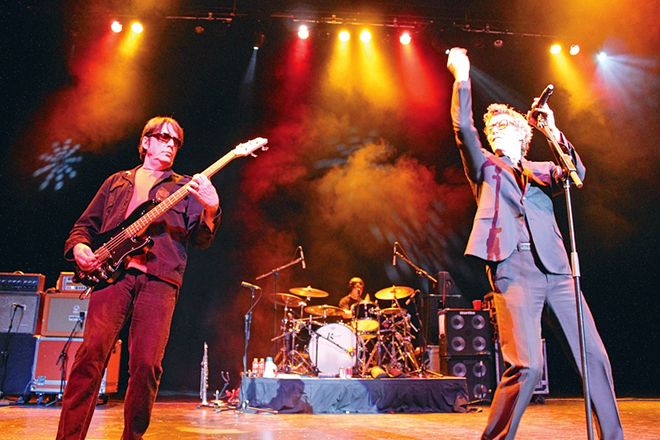 FRIDAY, JULY 19

The Psychedelic Furs/James
When the Psychedelic Furs first formed in England in 1977, the punk movement was still going strong. And yet the Furs didn't subscribe to its principles. They didn't scream about anarchy in the UK or write songs about rioting in London. In fact, singer Richard Butler didn't scream at all. His husky vocals made him sound more like Joe Cocker than Johnny Rotten. And the band's synth-heavy music had more in common with the Doors than the Clash. Despite being out of sync with what was so popular at the time, the band has endured — writing great songs such as "Love My Way" and "Pretty in Pink" has probably had a lot to do with it. This show features a great double bill and includes the veteran British rock band James. Last year's
Living in Extraordinary Times
has been so popular and successful, it's resulted in the band playing to the biggest audiences ever. The current tour marks the first time James has toured in North America since their sold out 2012 mini-tour. (Jeff Niesel), 6:30 p.m.
Agora Theatre
.
Belle and Sebastian/Men I Trust
As he began to work on a film based on the graphic novel
Days of the Bagnold Summer
, director Simon Bird mentioned to a friend that he would love to have the Scottish twee-pop band Belle and Sebastian score the thing. His friend wisely suggested he find out if the band was available. Turns out, they were working on some instrumental tracks that wound up being well-suited to the soundtrack. The soundtrack also features several new Belle and Sebastian songs as well as re-recorded versions of classics "Get Me Away from Here I'm Dying," a song that originally appeared on 1996's
If You're Feeling Sinister
, and "I Know Where the Summer Goes," from 1998's
This Is Just a Modern Rock Song EP
. Expect to hear at least some of these tunes when the band comes to town for a rare local performance. (Niesel) 8 p.m., $39 ADV, $44 DOS. House of Blues.
Sinatra Night with Michael Sonata (in the Supper Club)
Canton native Michael Sonata has always been involved in plays and choirs and was a member of the University of Notre Dame Glee Club. In 2004, he auditioned for a role in a Sopranos spoof that required a character based on Frank Sinatra. Sonata got the part and has been imitating Ol' Blue Eyes ever since. He includes some 90 songs in his repertoire and covers all eras, including the Columbia years and the Capitol years. He even takes requests from the audience. (Niesel) 8 p.m., $10.
Music Box Supper Club
.
SATURDAY, JULY 20

Case Barge with Music by Unknownphrazes
Local rapper Case Bargé makes music that's conscious, passionate and determined; he's even drawn comparisons to acts such as Andre 3000, Childish Gambino and Kendrick Lamar. Two years ago, he issued a music video for "Manifest," a tune that addresses issues such as politics, religion and "today's media." Last year, he issued "You & I," a new music video that's just as profound. At nearly ten minutes, it's practically a short film. Expect tonight's concert to be a consciousness-raising affair. (Niesel), 9 p.m., $10 ADV, $12 DOS.
Beachland Tavern
.
Women Rock CLE Featuring Hera/the Scenic Route/Alyssa Boyd/AJ & the Woods/Maura Rogers and the Bellows/Indre/HeyOhWell/The Dream Masons/Kid Tigrrr/Madeline Finn

Two years ago, Alison Tomin and Joshua Alan Collins, both of whom play in the local band AJ & the Woods, teamed up to launch the inaugural Women Rock CLE, a concert showcasing some of the best women-fronted bands in the city. The annual event returns to House of Blues tonight, and the concert will feature Maura Rogers and the Bellows, AJ & the Woods, Alyssa Boyd, the Scenic Route, Hera, Madeline Finn, Kid Tigrrr, the Dream Masons, HeyOhWell and Indré. Gabrielle Kreuz, the co-host for Fox SportsTime Ohio's sports trivia show, Beer Money, as well as an online host for their social media platforms, will serve as the MC. (Niesel), 6 p.m., $10.
House of Blues
.
SUNDAY, JULY 21

Chuck Mead & the Grassy Knoll Boys Jim Lauderdale, Jason Ringenberg
Back in the '90s, BR549 was one of the leading alt-country acts. On numerous occasions, the band packed the Beachland Ballroom and put on some fantastic shows. BR549 is no longer together but frontman Chuck Mead has just issued
Close to Home
, an album that retains the band's signature sound. Album opener "Big Bear in the Sky" features Mead's bellowing vocals and some nicely distorted guitars that makes the song sound more like Social Distortion than, say, Jerry Lee Lewis. (Niesel) 7 p.m., $25.
Beachland Ballroom
.
Reggae Sundays: One World Tribe (in the Supper Club)
This special Reggae Sunday Happy Hour Concert series began earlier this month and continues every Sunday through Sept. 1. The indoor/outdoor concert series will take place rain or shine with live music from 4 to 7 p.m. Music Box will also offer food and drink specials exclusive to the series. Today, locals One World Tribe will perform. (Niesel), 4 p.m., free.
Music Box Supper Club
.
Sign up for Scene's weekly newsletters to get the latest on Cleveland news, things to do and places to eat delivered right to your inbox.