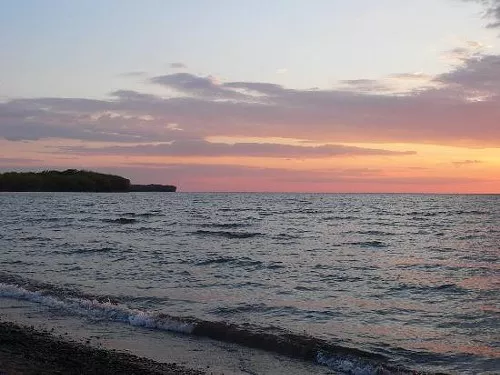 Photo via Flickr Creative Commons
It's finally hot enough to go swimming in Lake Erie, and yet a new report from the Environment America Research & Policy Center and Frontier Group may make gung-ho swimmers think twice.
Already this year
plenty
of gross stories about poop overflowing into Lake Erie have made headlines, and it turns out that at least two of Cuyahoga County's beaches make the research group's list of America's most troubled
among
29 coastal and Great Lakes states.
The new study checked samples of beach water throughout 2018 for bacteria counts higher than what the Environmental Protection Agency deems safe. Of 58 beaches sampled in Ohio, 56 were deemed potentially unsafe at least one day. Bay View West beach in Erie Country had the most unsafe days with 48.
The most potentially harmful beaches in Ohio are as follows:
• Bay View West (Erie County)
• Maumee Bay State Park (Inland) (Lucas County)
• Villa Angela State Park (Cuyahoga County)
• Lakeview Beach (Lorain County)
• Euclid State Park (Cuyahoga County)
But Ohio and the Great Lakes are hardly alone when it comes to making sure water is safe. On the Gulf Coast, 85 percent of all beaches had a contamination at least one day out of the year. The East Coast had the lowest number of issues, with only 48 percent of beaches having issues.
"It's hard to believe that 47 years after we passed the Clean Water Act that we are still concerned with poop in the water when people want to go swimming," said John Rumpler, clean water program director for the center
told
USA Today
.
According to the report, swimming in bacteria-infested water can lead to stomach/intestinal sickness as well as skin and eye infections.
Even without the added poop it's important to remember that swimming conditions aren't always safe. Just yesterday, the National Weather Service in Cleveland
announced
that due to waves and dangerous currents it was unwise to swim in Lake Erie for the day.
In general before jumping into any Ohio body of water it's smart to take a look at the Ohio Department of Health's official up-to-date water readings right
here.
Find the whole 47-page report Environment America Research & Policy Center and Frontier Group right
here.

Sign up for Scene's weekly newsletters to get the latest on Cleveland news, things to do and places to eat delivered right to your inbox.