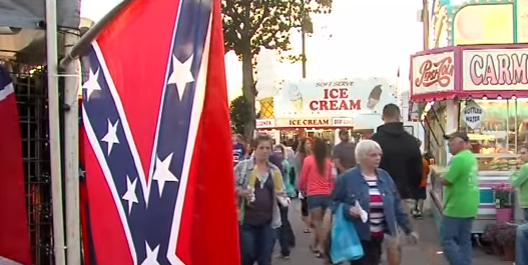 Another summer fair season, another year that the Confederate flag continues to cause controversy at the
Lorain County Fair
, which runs Aug. 19-25.
As we reported
last year
, the Fair-Minded Coalition of Lorain County with funding from the Lorain YWCA, put up three billboards around the area calling for the end of flag sales at the fair. Yet, despite the public outcry for years, fair administrators sill allow the flags to fly.
This year, the YWCA has not only paid for four billboards, but has planned a protest for the same night the rock band Foreigner is set to play the fair's main stage, Aug. 20.
"For folks coming from the northern part of the state, which is most of the people coming to the fair, you will be able to see us. You will see our signs. We are not going anywhere," Jeanine Donaldson, executive director of the Elyria and Lorain YWCA,
told
FOX 8.
The president of the Lorain Fair Board, Ron Pickworth,
told
the
Chronicle-Telegram
that his organization sees the selling of Civil War memorabilia as a First Amendment issue.
"We still believe in freedom of speech," he told the
Chronicle-Telegram
. "I'm sorry this issue keeps coming up."
The Confederate flag, as
Scene
has covered in depth
here
and
here,
continues to have a mystifying pull over many in Northeast Ohio, a state which fought for the Union during the Civil War.
The flag protest is being held at Black River Organics Farm in Wellington, not far from the Lorain County Fairgrounds.
Sign up for Scene's weekly newsletters to get the latest on Cleveland news, things to do and places to eat delivered right to your inbox.