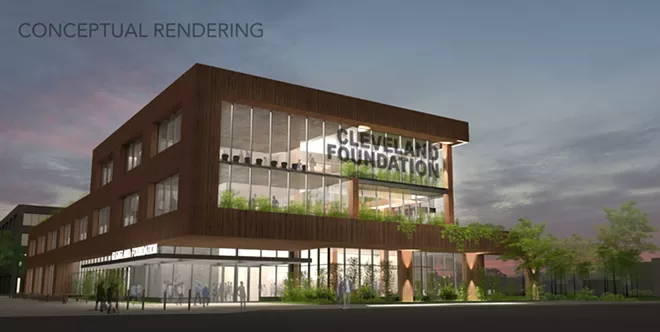 Cleveland Foundation / S9 Architecture
Rendering of the Cleveland Foundation's proposed new headquarters in Midtown.
In a guest column
published in cleveland.com
this week, retired Shaker Heights school teacher Paul Springstubb argued that the Cleveland Foundation could be doing considerably more to help the region thrive.
Citing analysis from
CF Insights
, which provides research and data for and about community foundations, Springstubb said that while the Cleveland Foundation is among the largest organizations of its kind in the country, in terms of total assets, it is near the bottom of the barrel in terms of its payout rate. The Cleveland Foundation awards grants every year totaling roughly five percent of its $2.3 billion total.
Of the 250 community foundations CF Insights surveyed in 2018, 19 had assets totaling $1 billion or more.
"Only one of those foundations had a distribution rate lower than Cleveland," Springstubb wrote. "Sixteen of the 19 had a higher distribution rate. The average payout rate of the other 18 foundations with $1 billion-plus in assets was 9.9 percent; the median was 11 percent. Cleveland's distribution rate was five percent. The consequence: Cleveland's peers in assets grant tens of millions more per year."
Springstubb mentioned the city of Cleveland's child poverty rate —
nearly 49 percent
, the highest among big cities in the country — and the scourge of lead poisoning, which legislators and private sector leaders are currently scrambling to fund and said that these dire social circumstances demand an increase in funding from those with the capacity to spend.
"Has our community foundation been focused on growing assets," Springstubb wondered, "at the expense of mission?"
According to the Cleveland Foundation, the answer is no. In a written statement, a spokesperson told Scene that Springstubb's column failed to account for an important piece of their financial puzzle.
"When you look at the number of community foundations represented in this survey with $1 billion or more in assets, there are indeed 19 in this peer set," the statement read. "However, what the survey does not clearly articulate are the payout implications when a community foundation has a significant amount of assets in donor-advised funds. Ultimately, this survey is comparing apples to oranges."
The Cleveland Foundation, unlike many of the other foundations surveyed, has a relatively small percentage of its assets in these donor-advised funds — 11 percent. At some of the others, donor-advised funds make up 30 or even 40 percent of total assets. These foundations might be spending more rapidly or at a higher rate, the spokesperson suggested, because the donor
directs the spending of those funds.
"Unlike endowments, not every donor-advised fund is designed to retain its value in perpetuity; some donors wish to spend down their funds within their lifetimes or in a specific time period. Because of the self-directed nature of donor-advised funds, a community foundation's payout rate in any given year can fluctuate significantly."
The Cleveland Foundation spokesperson wrote that their payout rate was comparable to the one other foundation surveyed which had a higher percentage of trust assets (non donor-advised funds).
Moreover, the Cleveland Foundation's spending policy, as determined by its board of directors, has consistently remained at five percent for more than two decades, the spokesperson wrote, "despite market fluctuation through the years, including a severe recession." Due to its "sound fiscal management," the Cleveland Foundation has continued to distribute grants with local impact since its inception in 1914.
But while the Cleveland Foundation referred to its fiscal management as "sound," Springstubb characterized it as "deeply conservative." He called on the Foundation's CEO, Ronn Richard, and the board of directors to increase its payout rate. He referenced the work of author and philanthropic consultant Bill Somerville, who has argued that a community foundation "might move beyond the annual pay-out provision of five percent in its grantmaking to 10 or even 15 percent and scarcely notice the difference."
Sign up for Scene's weekly newsletters to get the latest on Cleveland news, things to do and places to eat delivered right to your inbox.