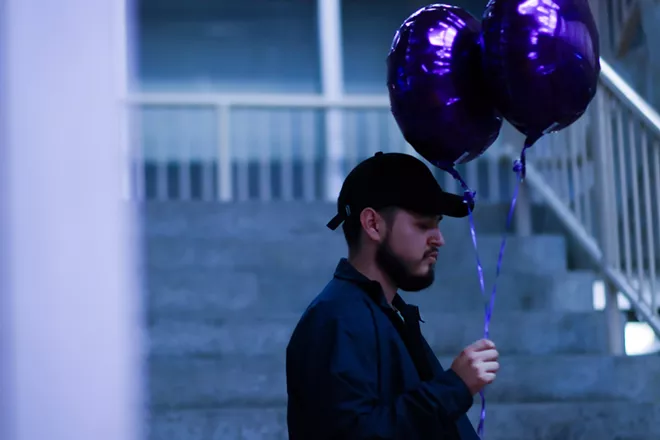 Courtesy of Unknownphrazes
A local producer, DJ and singer-songwriter, Unknownphrazes came to Cleveland from Mexico when he was 10. He started creating his own beats and writing his own songs shortly after the move to Northeast Ohio as a way of coping with being a stranger in a strange land.
"I started making music when I was 13 just to deal with the fact that I had moved from a whole different country," he says. He performs at 9 p.m. on Thursday, Aug. 29, at Touch Supper Club at a show that'll serve as a release party for his new EP,
It Was All an Illusion.
"I am self-taught. I taught myself to engineer and record my own music. At that time when I started, I was listening to the earlier Drake. I was also into 50 Cent and Eminem, and I was a big of fan of [producers such as] Dr. Dre and the Alchemist."
When he was still a teenager, Unknownphrazes, then simply known as Phrazes, joined up with the local hip-hop collective Common Ave., a group that featured people he knew from high school. Phrazes and rapper Jordon M. started working together first and then they brought "the kid" Stoke into the mix. As Common Ave., they dabbled in beatmaking, production and graphic design.
That group released a few singles and EPs before dropping
Aurora Borealis
, its first official release, in 2014. The album represented the group's attempt revamping the '90s and echoing the positivity of the Native Tongues movement.
"We just started making music," says Unknownphrazes when asked about the time he spent with Common Ave. "I had a great time making music with them. It was a learning experience. It gave me a lot of knowledge on being able to perform and how to release music. It was a good run. It was all good."
That group broke up in 2015, and Phrazes took a year off before returning as a solo artist and rechristening himself Unknownphrazes toward the end of 2016.
"I used to go by Phrazes and there's this album by Julian Casablancas called
Phrazes for the Young
, and there was always a lot of confusion between my name and that project," he says. "I added the 'unknown' to it to describe how there can be more phrases to describe music."
At that point, he also joined ALOOF, a local group of musicians he describes as "a creative group that does events."
"It's really more of a movement," he says of ALOOF, which also includes local rapper Case Barge.
Unknownphrazes put out a demo last year, but he says he's put more energy into his new EP,
It Was All an Illusion
.
"The whole EP is inspired by a moment I had," he says. "I thought of the entire concept during that moment, and the next day I woke up and recorded the entire project. The theme is realizing that I didn't know if that moment was real or not, to be honest. It could've been fake. It was like a dream, and it definitely inspired me."
The three-song EP commences with "Silhouette," a track that has an R&B feel thanks to the soulful intro sung by local DJ Pxzka.
"I wrote the poetry for her," Unknownphrazes explains. "That song serves as my introduction to this sound. I have another release coming up called
Lavender
. This EP is the pre-project for it. That's the sound I will identify myself with even more on
Lavender
."
The electronica-influenced "Nightmare" serves as an interlude.
"The song is really soft and shows how I'm definitely inspired by electronic music," says Unknownphrazes. "I incorporate that with the theme of the album. The other background vocals are me singing. I'm a big New Age electronic fan. I like a lot of current stuff. I'm a big fan of the Soulection brand and a lot of the producers from the Cali scene."
The album's final track, "Illusion," features deep-voiced backing vocals that makes it comes off as something truly psychedelic and trippy.
"That's me singing those background vocals too, but I did those on a song from about six years ago when I recorded the actual lyrics, I was trying to find something that fit the hook," says Unknownphrazes. "I came across those vocals and threw them on this track and mashed them with the song, and it worked perfectly."
Unknownphrazes says his upcoming show at Touch will mirror the album's theme.
"I'm going to do everything live from the beats to the vocals with a real intimate mood," he says. "We'll do a lot with the lights and have a lot of projections on the wall. When you go to a rap show, there's a DJ between acts, but I want this to be more of a musical event. I'll be making the beats live and performing them live. I want it to be something extra and out of the ordinary."
Sign up for Scene's weekly newsletters to get the latest on Cleveland news, things to do and places to eat delivered right to your inbox.