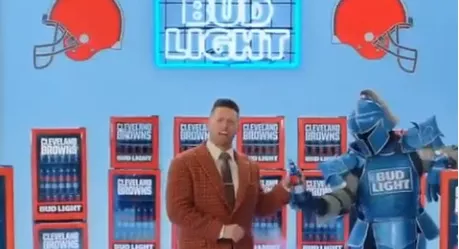 Bud Light commercial screenshot
Anheuser-Busch understands the power that Bud Light has over any Muni Lot-loving fan of the Cleveland Browns. That's why the company is hosting a two-day pop-up shop in Ohio City, selling nothing but Cleveland Browns Victory Fridges.
You of course
remember
the blue, white and orange behemoths from last year's season — which were smartly placed at area bars and at FirstEnergy Stadium only to open when the Browns finally won a game (that fateful day came Sept. 20). Later in the season, fans could even order mini
versions
of the fridges for their own homes.
Now the appliances are back just in time for a much different sort of season (we heard the Browns are probably winning the Super Bowl, that's just what we heard). Cheekily called B.L. & Browns Appliance Superstore, the pop-up shop at 1870 West 25th Street is selling two fridge sizes (small OR large), ranging from $200 to $500.
The event runs Tuesday, Sept. 3, through Wednesday, Sept. 4 from 1 p.m.-9 p.m. each day.
Even more thrilling for fans of watered-down American beer: folks can stock their newly-purchased fridges with $15 worth of free beer thanks to a redeemable code offered to anyone (21+) who enters the store. The code expired Sept. 26.
Huge Browns fan Mike "The Miz" Mizanin breaks it all down in this vivid commercial: