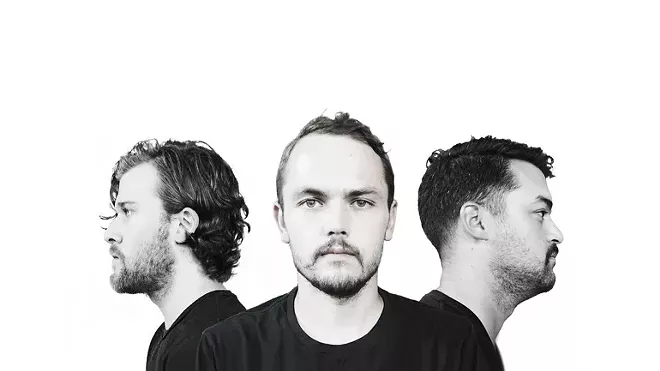 FRIDAY, SEPT. 6

Future Thieves/Hardcastle/Ottawa
Future Thieves, an L.A.-based alternative pop band formed about five years ago; its popularity has steadily risen since then. Its 2015 song "Horizon Line," a rootsy track that features husky vocals and a splash of synths, has garnered more than a million streams on Spotify. The band has played some high profile gigs at festivals such as Bonnaroo, Summfest, SXSW and Forecastle. The current tour supports last year's self-titled effort. (Jeff Niesel) 9 p.m., $10 ADV, $12 DOS.
Grog Shop
.
Kacey Musgraves
This summer, Kacey Musgraves became the first-ever female country artist to play Coachella. She launched the second North American leg of her Oh, What a World tour in the wake of that festival. The tour supports last year's Grammy-winning
Golden Hour
, an album of introspective, well-crafted songs that show off her supple voice. The material on the album might have pop appeal, but Musgraves cites singer-songwriters such as John Prine and Alison Krauss as inspirations. (Niesel) 8 p.m., $35-$65.
Jacobs Pavilion
.
Sinatra Night with Michael Sonata (in the Supper Club)
Canton native Michael Sonata has always been involved in plays and choirs and was a member of the University of Notre Dame Glee Club. In 2004, he auditioned for a role in a Sopranos spoof that required a character based on Frank Sinatra. Sonata got the part and has been imitating Ol' Blue Eyes ever since. He includes some 90 songs in his repertoire and covers all eras, including the Columbia years and the Capitol years. He even takes requests from the audience. (Niesel), 8 p.m., $10.
Music Box Supper Club
.
SATURDAY, SEPT. 7

Glen Hansard
Singer-songwriter Glen Hansard got his start busking in the streets of Dublin. Over the course of a career that stretches back a few decades now, Hansard has continued to bring that folk-y element to his albums. His latest effort,
This Wild Willing
, embraces electronic instrumentation but still possesses a quiet intensity to it, and most of the tracks come off as gentle (and sometimes dark) ballads. It should be noted that Hansard has become known for his epic live shows that typically stretch over two hours and include material from his other bands, the Swell Season and the Frames, as well as much from the 2007 film Once. (Niesel), 7 p.m., $35-$60.
Agora Theatre
.

SUNDAY, SEPT. 8

Avett Brothers
The Avett Brothers' music can sometimes get written off as simplistic or sappy. But every song written by North Carolina siblings Seth and Scott Avett comes from a place of authenticity. They spin tales of hardship and working to be better men, fathers and lovers through multitudes of imperfections. That their most well-known song is called "I and Love and You" just shows they're willing to wear their hearts on their sleeves. Today, they're still playing that same rip-roarin' and timeless brand of bluegrass/country they arrived with in the early 2000s. And as seen in the recent documentary,
May It Last: A Portrait of the Avett Brothers
, directed by Judd Apatow and Michael Bonfiglio, that music is poised to keep them working for decades to come. (Laura Morrison) 7:30 p.m., $45-$65.
Wolstein Center
.
Christian French/ASTN
Singer-songwriter Christian French started posting covers on Soundcloud. The very first track he ever posted was his cover of Coldplay's "The Scientist." French caught a good break a couple of years ago when his single "Fall for You" went viral. While still in college, French began spending his breaks in Los Angeles where he could record. He self-released
Natural Colors
last year and then inked a deal with Disruptor Records (The Chainsmokers, Dove Cameron) for his new EP,
bright side of the moon
. A song about looking on "the bright side" of things, the title track features French's upper-register vocals and perky synths. (Niesel) 8 p.m., $12 ADV, $15 DOS.
House of Blues Cambridge Room
.
T-Rextasy/Sarah Arafat
On
Prehysteria
, the follow-up to its debut album,
Jurassic Punk
, the New York-based indie rock act T-Rextasy lets its freak flag fly. The band — singer Lyris Faron, bassist Annie Fidoten, drummer Ebun Nazon-Power and guitarist Vera Kahn — writes about serious topics such as anxiety and peer pressure but in a jubilant manner. The catchy, lo-fi album opener "Zit Song" features caterwauling vocals and a spirited brass section. With its primitive horns, snarling vocals and blasts of white noise, "Coffee" sounds like a unhinged mashup of Cake and X-Ray Spex. Should make for a lively show. (Niesel) 8 p.m., $12.
Beachland Tavern
.
Wallows/Remo Drive
Two years ago, this alt-rock act released its first single, the Strokes-like rocker "Pleaser," and the song went viral. Since the group had self-recorded the song, it decided it would benefit from recording at a proper studio. At that point, it recruited John Congleton (St. Vincent and Future Islands and David Byrne). He helped the band record both an EP and its latest effort,
Nothing Happens
. "Are You Bored Yet?," an album highlight, came together after drummer Cole Preston lost all his demos and ideas when a friend spilled wine on his computer. In the process of writing new songs, he first came up with "Are You Bored Yet." Still riding high from a sold-out tour of the UK and Europe, the band comes to town with some serious momentum behind it. 8:30 p.m., $25 ADV, $30 DOS.
House of Blues
.
Sign up for Scene's weekly newsletters to get the latest on Cleveland news, things to do and places to eat delivered right to your inbox.