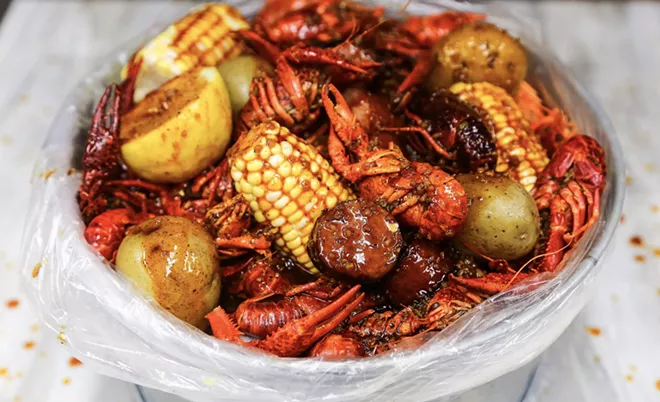 Judging by the arrival of more than a few new boiling seafood restaurants, the trend continues to gain traction locally. For those unfamiliar with the concept, these restaurants specialize in seafood such as crawfish, shrimp, crab legs and even whole lobster that is boiled, tossed in an aggressively seasoned sauce and delivered to the table in clear plastic bags.
The Sauce Boiling Seafood Express
(13888 Cedar Rd., 216-417-1719) follows that script, but with an important twist: the food is served in a fast-casual environment. Guests work their way down a line, where staffers assemble their orders with seafood like shrimp, crab legs, lobster tails, mussels and crawfish, add-ons such as andouille sausage, corn on the cob and potatoes, and sauces that range from sweet Cajun to flaming-hot butter. Customers can be out the door in minutes, says management.
Customers can order pre-designed bags starring shrimp, mussels, crawfish, snow crab or lobster or they can build their own from a list of ingredients, sauces and sides. Available sauces include Sweet Cajun, Famous Dash, Garlic Butter, Jamaican Jerk, Dragon Fly, Lemon Pepper, Vegan Garlic Butter and Flaming Hot Butter.
The concept was developed by Kyler Smith and Jameel Chambers, a chef at Suburban Medical Building in University Heights.
Sign up for Scene's weekly newsletters to get the latest on Cleveland news, things to do and places to eat delivered right to your inbox.