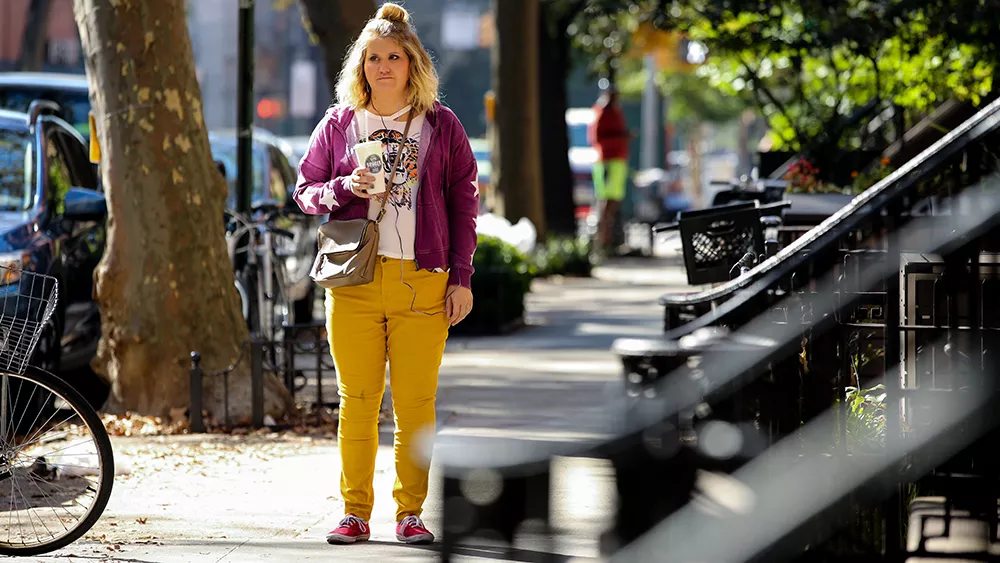 Brittany Runs a Marathon
is a millennial-oriented comedy with a narrative structure so familiar —
underdog triumphs over adversity
— that its eventual thoughtfulness comes almost as a surprise. By the end, it manages to impart some original wisdom on body image and self-respect, particularly as it relates to the perils of modern communication and courtship. It opens Friday at the Cedar Lee.
Groundlings and SNL alum Jillian Bell, (the undisputed scene-stealer of
Workaholics
), plays the titular Brittany. She's an overweight woman on the precipice of 30 who commits to turning her life around after a doctor's visit takes a left turn. She wanted an Adderall prescription. She got a lecture about dieting and exercise.
Bell is an improv comedy native and a master of unscripted riffing. But this role is not exclusively, or even primarily, comedic. The layered and often petulant Brittany is a far cry from the over-the-top wackos Bell has been called on to portray in recent years. Still, she revels in improvised awkwardness. She's at the center of two scenes of such pronounced discomfort that I nearly climbed under my seat.
The script, which follows Brittany as she painstakingly reinvents herself via physical exercise and associated life choices involving personal responsibility, is at times obvious and/or moralistic. The ensemble of supporting characters are conspicuous examples of books who shouldn't be judged by their covers: There's Catherine, (Michaela Watkins), the affluent upstairs neighbor … who turns out to be a former heroin addict! There's Gretchen, (Alice Lee), the ostensible best friend … who turns out to be a shallow social media prima donna! Then there's Jern, (Utkarsh Ambudkar, whom fans of the
Pitch Perfect
franchise will recognize as the Treblemakers' vocal percussionist extraordinaire Donald), the oafish man-child roommate … who turns out to be a sensitive and caring friend!
These are not spoilers. Most of the characters' trajectories are evident from the moment they open their mouths.
Ultimately, what makes
Brittany
so effective is that her attempt to run a marathon is akin to so many others' bold personal goals. Watching an underdog compete against long odds — and more importantly, against themselves — is inspiring stuff. I still cannot be sure whether certain scenes were set to Rachel Platten's "Fight Song," or if it just seems like they should have been, in retrospect.
While there are moments of strong comedic scene work, which was expected, the movie is stronger when it yanks at the heartstrings, which wasn't.
Near the end of the film, we learn that 50,000 people run the New York City marathon every year. Far from diminishing Brittany's efforts, that stat puts her story (which is based, we learn in the credits, on a real-life Brittany) in communion with a small city's worth of people, all running for different reasons, chasing away demons or pursuing outlandish goals.
Brittany's story is not an uncommon one, and it's a good reminder that personal adversity is universal, and that reinvention and renewal are incredibly hard, but incredibly rewarding in the end.
Sign up for Scene's weekly newsletters to get the latest on Cleveland news, things to do and places to eat delivered right to your inbox.