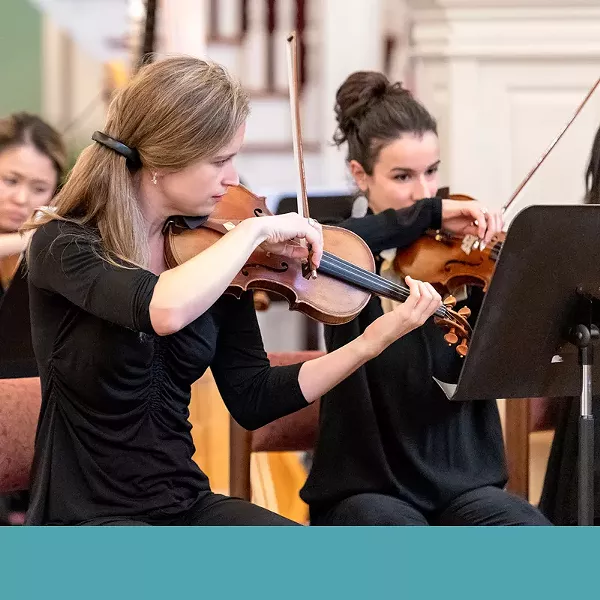 Courtesy BlueWater Chamber Orchestra
Nothing beats variety. This week's picks include opera, early music, new music, classical guitars, Jewish-inspired orchestra music, and Beethoven in two guises — coupled with bikes and beer, and the first of a series of concerts that will include all his sonatas for violin and piano.
Cleveland's premier opera company moves to Playhouse Square this weekend as
Cleveland Opera Theater
presents Puccini's La Bohème at the Ohio Theater on Friday, September 13 at 7:30 pm and Sunday, September 15 at 3:00 pm. Scott Skiba directs, Domenico Boyagian is in the pit with the orchestra, and the ever-popular Parisian Bohemians include Eleni Calenos (Mimi), Mackenzie Whitney (Rodolfo), Angela Mortellaro (Musetta), and Young-Kwang Yoo (Marcello). If you love the musical Rent, you should come hear the opera it's based on. Tickets are available
online.
People who take up the viola da gamba, that Renaissance and Baroque instrument that looks like a cello, has frets like a guitar, and inspired the film Tous les Matins du Monde, go nuts over the instrument. Why? It comes in various sizes, is often beautifully decorated, and a lot of its music is intended for musical socializing by ensembles of friends.
Oberlin Conservatory gamba and cello professor Catharina Meints
has gathered alumni and current students Ruby Brallier, David Ellis, Nick Schrantz, Rebecca Landell Reed, Luka Stefanovic, and Margaret Klucznik to join her in performing Henry Purcell's 15 fantasias for consorts of three to seven viols on Friday, September 13 at 7:30 pm in Oberlin's Kulas Recital Hall. The group will play instruments from the Caldwell Collection assembled by Meints and her late husband James Caldwell, most of them made during Purcell's own lifetime (he died in 1695). The concert is free and will be webcast
here.
Speaking of fretted instruments, the
Cleveland Classical Guitar Society
will open its new season on Saturday, September 14 at 7:30 pm at the Maltz Performing Arts Center with a showcase concert featuring guitarists Jason Vieaux and Colin Davin, and the Gruca White Ensemble (Robert Gruca, guitar, and Linda White, flute). It's free but tickets can be reserved
online
.
Percussionists Allen Otte and John Lane
will give two area performances of The Innocents, for two speaking performers using non-traditional instruments (rocks, pots, pans, books, chains, trash cans, etc.), plus African mbiras/kalimbas and electronics. The music and text illustrate the strong and complex emotions brought about by wrongful imprisonment. The first concert, on Saturday, September 14 at 7:30 pm, is a Vanguard Guest Artist Recital in Ludwig Recital Hall at Kent State University. The second, on Sunday, September 15 at 4:30 pm, is an Oberlin Conservatory Guest Recital in Stull Recital Hall. Both are free.
Two longtime duo-piano friends will reunite in Reinberger Chamber Hall at Severance Hall on Saturday, September 14 at 8:00 pm as the
Cleveland International Piano Competition
presents Shai Wosner and Orion Weiss in the last event on its 2019 concert series. They'll play two big works — Schubert's Sonata in C ("Grand Duo") and Brahms' Sonata in f — prefacing each of them with short works by David Lang (Gravity and After Gravity). Tickets are available
online.
Urban Troubadour
offers cyclists and lovers of beer and music the attractive combination of "Bikes, Brews, and Beethoven" on Sunday, September 15. It begins at 540 S. Main St. in downtown Akron at 1:00 pm with a towpath ride to Magic City Brewing Co. for brews, bites, and a 20-minute concert. Bring your own bike, lock, and helmet and enjoy a flat, 5-mile ride in each direction. The event will go forward, rain or shine, and $22 covers the ride, beer, food, and music. Reserve
online.
BlueWater Chamber Orchestra
has chosen some Jewish-inspired music for its opening concert, and will perform it appropriately in a synagogue. On Sunday, September 15 at 3:00 pm, Daniel Meyer will conduct the ensemble in Norman Dello Joio's Meditations on Ecclesiastes, Srul Irving Glick's The Klezmer's Wedding, and Dvořák's Serenade for Strings in Beachwood's The Temple-Tifereth Israel. The performance will feature cantor Kathy Sebo and clarinet soloist Amitai Vardi. Tickets can be reserved
online.
And a former synagogue will become a new venue for several Cleveland Chamber Music Society concerts this year. On Tuesday, September 17 at 7:30 pm in the Maltz Performing Arts Center, the Society will open its 70th anniversary season with the first of three concerts featuring Beethoven's complete sonatas for violin and piano, performed by James Ehnes and Andrew Armstrong. On Tuesday they will cover Sonatas Nos. 1-4, Op. 12 and 23. ClevelandClassical.com's Daniel Hathaway talks about the music at 6:30 pm, and tickets (special prices for students) are available
online.
For details of these and other classical concerts, see our
Concert Listings page
.