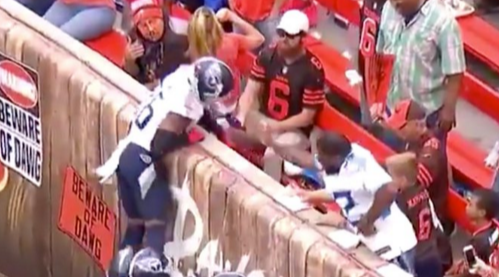 Eric Smith was going about his morning at the Cleveland Music Group today when he got a call from Bob Sivik, the Cleveland Browns' Vice President of Ticket Sales & Service.
Sivik, Smith says, informed him that he had been identified as the fan who poured a beer on Titans' player Logan Ryan during the Browns' game at FirstEnergy Stadium on Sunday afternoon.
This was shocking news to Smith, he says, for a couple of reasons. First, he wasn't at the game. Second, he hadn't been to a game in nearly a decade. Third, he was
DJing a wedding
at the Ariel International Center that afternoon.
"I was with my family until about 2 when I left for the wedding," he says. (Update: Smith followed up with more details this evening — "I drove to First Watch in the morning with my family, took my son to the zoo for like an hour and a half and came home to get ready for work. According to my State Farm app, I actually left for work at 2:57 p.m.)
None of that seemed to sway Sivik, who told Smith that he had been caught on multiple cameras around the stadium, that the team had matched his tattoos, and that he had bought a ticket. Smith was informed he was banned from the stadium.
Nevermind that Eric Smith is an incredibly common name, or that Eric looks like a million other bearded red-headed men in Cleveland, or that he didn't buy a ticket, or that
HE WASN'T AT THE GAME.

"I said please, please send me the footage," Smith tells Scene. "And he was like, 'You don't have to get defensive if you're innocent.'"
The Browns had been on the hunt for the offender since Sunday.
"This individual person's action is not tolerated in our building as it is not reflective of our fan base or city," the team said in a statement earlier this week. "We are currently addressing the situation internally, along with NFL Security, and we believe we have identified the person involved. He will ultimately face an indefinite ban from FirstEnergy Stadium for the unacceptable behavior, which is in clear violation for our Fan Code of Conduct."
Looks like they need to start their search over again.
We've reached out to the Browns for a response and will update you if we hear back.
Sign up for Scene's weekly newsletters to get the latest on Cleveland news, things to do and places to eat delivered right to your inbox.