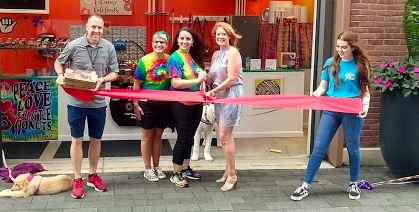 Earlier today, the "experience-driven bakery" Peace, Love & Little Donuts opened a third Cleveland location in Crocker Park's Comet Alley next to Hyatt Place Hotel. To commemorate the grand opening, the donut shop hosted a special ribbon-cutting ceremony.
The bakery regularly has over 60 flavors in rotation and features daily "house favorites" plus seasonal specials including pumpkin, gingerbread, key lime pie and more.
"This fun bakery sure puts a smile on my face every time I step through the door," says Stacie Schmidt, Vice President of Marketing for Stark Enterprises, in a press statement. "We are thrilled to have them now as a permanent space inside our charming Comet Alley, adding to the local theme and feel of the location. Their delicious donuts and experiential atmosphere is a welcomed addition here at Crocker Park."
To celebrate their grand opening at Crocker Park, the bakery is giving away coupons for a free half dozen box of donuts to the first 25 people to arrive tomorrow and Sunday.
Hours of operation are 9 a.m. to 9 p.m. tomorrow and 11 a.m. to 6 p.m. on Sunday.
Sign up for Scene's weekly newsletters to get the latest on Cleveland news, things to do and places to eat delivered right to your inbox.