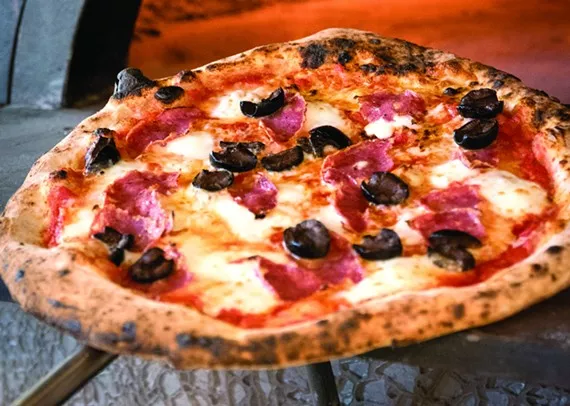 Photo courtesy of Citizen Pie
After the success of Cleveland's Burger Week,
Scene
has decided to take some time to celebrate another one of America's favorite foods: pizza. Cleveland Pizza Week is coming Oct. 21 to 27, which means a whole seven days of $8 pies from 17-plus local restaurants.
The current list of participants includes:
49 Street Tavern
Ballantine
Beerhead Bar & Eatery
Citizen Pie
Danny Boys
Dante's Inferno
Dewey's Pizza
Eddie's Pizzeria Cerino
The Fairmount
Geraci's Restaurant
Papa Nick's Pizza
Sauced Wood Fired Pizza
Saucy Brew Works
Southern Tier Brewing Co.
Teamz Restaurant & Bar
Tavern of Little Italy
Tony K's Bar & Grille
Each restaurant is preparing one or two special pies for the event. Many are offering gluten-free options. Pizza Passports will also be available, just like with Burger Week. If you earn four or more stamps on your passport, you'll be entered to win $250 in gift cards. So the more you eat, the better.
Restaurant applications for Pizza Week will be accepted until Oct. 1.
Find out more about Cleveland Pizza Week
here
.
Sign up for Scene's weekly newsletters to get the latest on Cleveland news, things to do and places to eat delivered right to your inbox.