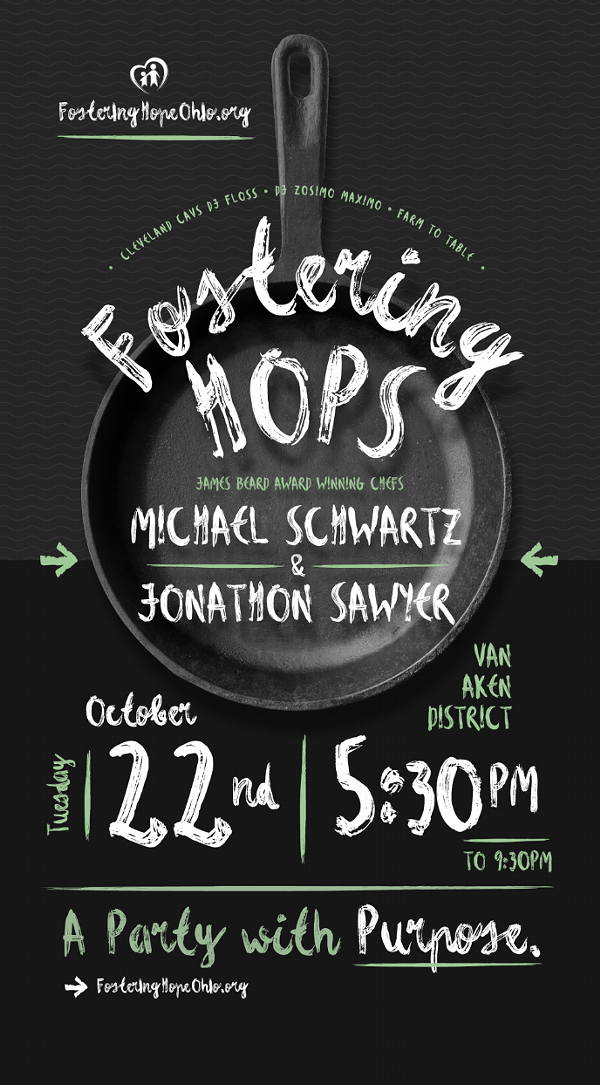 The local nonprofit
Fostering Hope
will host its fourth annual fundraiser, Fostering HOPS, on Tuesday, Oct. 22, in the Van Aken District on Tuttle Road.
There will be guest bartenders, a silent auction, food and live DJs, including local DJ Zosimo Maximo. The event will kick off with a special ticketed Chef Challenge featuring James Beard Award Winning chefs Jonathon Sawyer of Sawyer's and Greenhouse Tavern and Michael Schwartz of Michael's Genuine.
Xhibition, an apparel and footwear retailer, will feature a special VIP area where DJ Steph Floss, who DJs at Cavs games, will make an appearance.
This annual fundraiser supports Fostering Hope's mission of "enriching the lives of children living in foster care and residential treatment by providing unique experiences and giving the community opportunities to profoundly impact a child's life."
This year, Fostering Hope will likely serve more than 1,000 children through programming centered on childhood experiences, heath and wellness, and community involvement.
"We believe that all children deserve to experience the fundamental joys of childhood," says Fostering Hope Executive Director Karen Carter in a press release about the event. "The wonderful kids we serve find themselves in the foster care system at no fault of their own. We aim to show them that the community cares about them and help them experience special moments of just being a kid."
Tickets can be purchased at
FosteringHopeOhio.org
. Ticket prices range from $75 to $250.
Sign up for Scene's weekly newsletters to get the latest on Cleveland news, things to do and places to eat delivered right to your inbox.