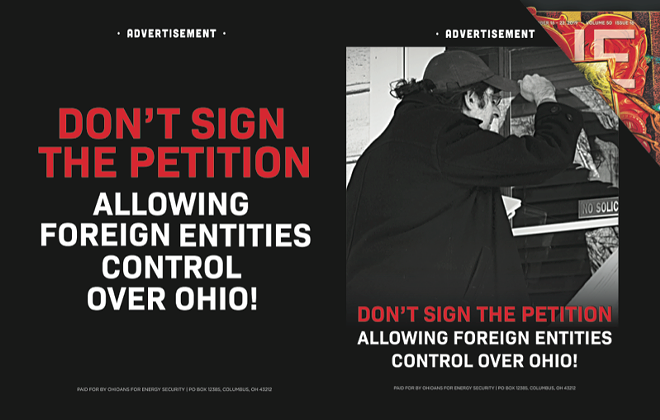 Dear reader,
If you see a print copy of this week's paper, you'll notice there is a cover wrap advertisement on the issue. Cover wraps are one advertising option that Scene's sales department offers. It is the editorial department's least favorite, for a couple of reasons, not least of which is that our cover wraps almost always involve not just politics but politics and political issues Scene has reported on and covered. These have included cover wrap ads for candidates including Ken Lanci in 2013, Jack Schron in 2014, Zack Reed in 2016, and Peter Corrigan in 2018. The editorial staff has objected each and every time.
While labeled as ads, they are, by design, meant to look like editorial content, to look like Scene is endorsing an issue or candidate. That's bad enough. It's even worse, and more pernicious, when the cover wrap ad is as cravenly dishonest as this week's fear-mongering garbage from the Ohioans for Energy Security.
The pro-HB6 group supporting Ohio's bailout of FirstEnergy's nuclear power plants (and a coal plant to boot) and the erosion of the state's renewable energy regulations has mounted perhaps the most shady and misleading ad campaign in recent memory, as Ohioans Against Corporate Bailouts and other groups mount a signature drive for a ballot initiative to repeal the bill.
Sensational TV and print ads claimed, incorrectly and with no basis in fact, that the Chinese government is trying to take over and invade Ohio's energy grid and that signing the petition would be handing your information over directly to the Chinese. They claimed this, they said, because natural gas groups have borrowed money from the Industrial and Commercial Bank of China to build three of Ohio's four natural gas plants. But those loans involved more than just the ICBC — 10 other banks from across the globe are tied up in the financing of those plants.
What's more, FirstEnergy, which owns the nuclear plants bailed out by HB6, has received $161 million from ICBC and other international banks, according to the company's 2018 filing with the U.S. Securities and Exchange Commission.
There is plenty of fertile ground on which to debate HB6. The petition drive, if it gathers the necessary signatures, would merely put the issue before Ohio's voters.
The ad is dishonest, was approved and printed over the vocal objections of the editorial staff, and we felt like we owed you an explanation, as well as a fact check.