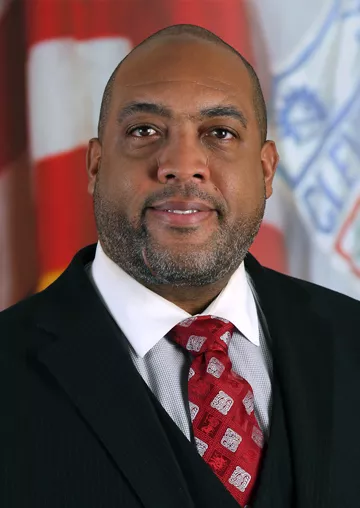 Cleveland City Councilman Blaine Griffin gave a speech at Monday's city council meeting that he will soon wish he didn't. The combative, elitist remarks once again fortified council's "us vs. them" mentality when it comes to their constituents and will haunt the Buckeye-Shaker councilman if he runs for Mayor in 2021, as is widely assumed.
Griffin's floor speech was inspired by a voter rights forum hosted by the Ohio Democratic Party and the Service Employees International Union Saturday. It featured as a special guest Stacey Abrams, the voting rights activist and 2018 Georgia gubernatorial candidate. At the event, an SEIU member asked Cleveland City Council President Kevin Kelley to leave. Kelley was escorted out.
For Griffin, this "aggressive" encounter defiled the dignity of the high office of City Council. He said it was unlike anything he'd ever seen in his political life and that it was now incumbent upon the body to make a "profound statement" to the following effect: City Council and its elected members must be respected.
It was
an unintentionally violent, authoritarian speech
.
"We must protect this house," Griffin said. "We've got to set a tone that nobody should ever mess with this body. These folks need us because we were duly elected and we put ourselves out there to work hard on behalf of the citizens, not them... The body of this council needs to be shown respect whenever we go anywhere. We need to send a strong message that when you mess with us, you will be dealt with."
What an inspiration!
Griffin's speech was not only a grave political miscalculation — mayoral hopefuls must
distance
themselves from Kelley if they stand a chance — but also a basic misinterpretation of his role as an elected official.
"You don't have to respect me [or Kelley], but you have to respect this seat," he said. "You have to salute, as they say in the army, the rank, not the person. You can detest me, but you have to respect the seat."
(Valiant words from a man holding the seat in question.)
Though this is diametrically opposed to the "servant leadership" rhetoric popular among local electeds and CEOs at annual luncheons, the above can be interpreted as the true stance and one of the most deeply held convictions of city council members: that they are accorded
automatic
reverence by virtue of their position, irrespective of what they do.
Griffin was railing against the Ohio Democratic Party, co-sponsors of the Saturday event, and even threatened to take matters to the Democratic National Committee —
what??? —
but the fact is, Kelley was asked to leave by a member of SEIU, not the ODP, for readily identifiable reasons: specifically,
what he has done
as city council president.
Despite his recent efforts to rehabilitate his image, voters know and will always remember how hard Kelley has worked to suppress their voices, how effectively, on key issues, he has removed the public from the conversation. Saturday's forum was about
voter rights.
Does Kelley not understand how cruel and troll-ish his presence there no doubt seemed?
City council has been the most anti-democratic force in Cleveland for the past several years. And while Griffin claimed that he "punches up, not down," the actions of council leadership, to say nothing of his own speech, dramatized the contrary.
"These folks,"
he said, referencing the activists and loud mouths he was at that moment pooping all over, "
need us ... because we work hard on their behalf, not them."
Preach!
The woman who asked Kelley to leave Saturday was SEIU member Lynn Radcliffe. She was at Monday's council meeting and can be heard in Griffin's video, linked above, shouting in the background. She responded to Griffin's remarks in a Facebook comment later Monday night.
Griffin, a peacemaker by disposition, will no doubt walk his comments back. He responded to Radcliffe's post congenially.
"Thanks Lynn. We can agree to disagree," he wrote. "I will not disrespect you Sis. But I am also going to challenge people when I believe there is a lack of decorum."
But again, Griffin will only challenge people for a lack of decorum
directed at City Council members,
to whom, remember, constituents must show respect or be dealt with. Griffin has not challenged a lack of decorum by his city council colleagues, neither the snide remarks directed at activists nor the
unhinged, totally indecorous ravings
of Ward 4 councilman Ken Johnson, directed at his own constituents.
He's punching down, in other words.
Sign up for Scene's weekly newsletters to get the latest on Cleveland news, things to do and places to eat delivered right to your inbox.