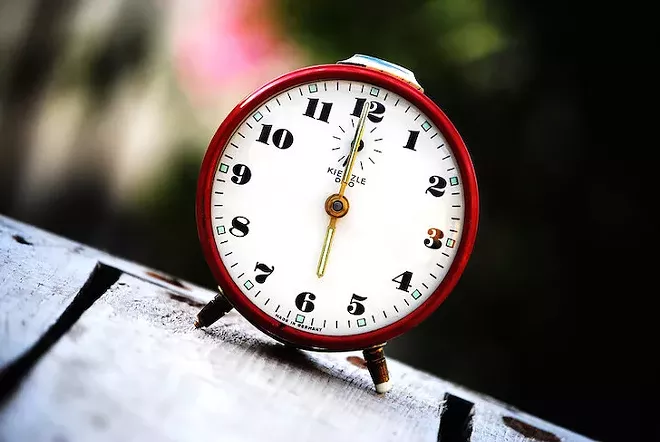 Photo via Alex The Shutter/FlickrCC
This Sunday, Nov. 3, most Americans turn back their clocks to enjoy an extra hour of sleep and the end of Daylight Saving Time 2019. But it might just be the last time Ohio gets to fall back.
Introduced
in March
, Senate Bill 119 (aka the Ohio Sunshine Protection Act) is still alive and would allow Daylight Saving to direct our clocks year-round. The main issue here is that before a state can opt into year-round DST, federal congressional action must be taken, which hasn't happened yet.
Floridians
and
Oregonians
will turn their clocks back with us this Sunday even though both states have passed bills to eliminate Standard Time (that period between falling back and springing forward) permanently. That's all thanks to the
1966 Uniform Time Act
, which requires states to either observe Daylight Saving or to stick to Standard Time year-round.
So why not just pick Standard Time? Arizona and Hawaii as well as U.S. territories such as the Virgin Islands and Puerto Rico have done just that. They don't set their clocks forward every spring but stick to the time that we're on when we "fall back."
The problem is that people prefer light later in the day when they get out of work and school, and they care less about light in the morning. That's why the majority of states
currently
have one or more bills in the works to permanently switch to Daylight Saving and to eliminate that annoying back-and-forth for good. Again, even if these bills are passed at a state level, they can't go into effect until federal action is taken.
There is, however, a
third option
. East coast states including Massachusetts, New Hampshire, Maine, Rhode Island and Connecticut are all considering moving one time zone to the east (in this case, out of Eastern Time and into Atlantic Time), thus opting out of Daylight Saving permanently. This would actually have the same effect as adopting DST permanently in the Eastern Time zone, but this specific action would have to be approved by the U.S. Department of Transportation and not Congress.
State Senators Kristina Roegner and Bob Peterson introduced the aforementioned Ohio Sunshine Protection Act that's scheduled for a third committee hearing on Nov. 13.
Sen. Roegner
told
Cleveland.com she's thinking of changing the effective date on the bill to give Congress more time to take action.
"Now that the days are getting shorter, I can't go anywhere without people asking about [the bill]," she
said.
Sign up for Scene's weekly newsletters to get the latest on Cleveland news, things to do and places to eat delivered right to your inbox.