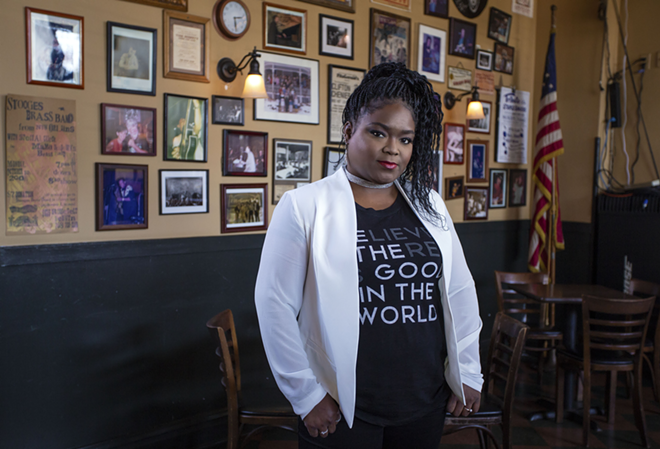 FRIDAY, NOV. 8

Shemekia Copeland/Sam Hooper Group (in the Supper Club)
America's Child
, the latest album from singer Shemekia Copeland, won the 2019 Blues Music Awards for Album Of The Year and Contemporary Blues Album Of The Year. The record was also named the #1 blues album of 2018 by MOJO magazine. Produced by multi-instrumentalist Will Kimbrough, it features songs and/or guest performances by luminaries such as John Prine, Emmylou Harris, Rhiannon Giddens, Mary Gauthier and Steve Cropper. Copeland's powerful voice drives tracks such as "Ain't Got Time For Hate" and "Such a Pretty Flame." Expect to hear tracks from the album at tonight's show. (Niesel) 8 p.m., $25 ADV, $30 DOS.
Music Box Supper Club
.
Fantasia/Robin Thicke/The Bonfyre
American R&B singer, songwriter, actress and author Fantasia won the third season of the reality TV series
American Idol
way back in 2004. She's been going strong ever since and comes to town tonight in support of her latest album,
Sketchbook
. The album features contemporary-sounding R&B tunes such as "History" and "Enough" that make use of both organic instrumentation and electronics. (Niesel) 8 p.m., $49-$99.
State Theatre
.
Jesse Malin/Diane & the Gentlemen
Singer-songwriter Diane Gentile and fellow singer-songwriter Jesse Malin have a long history of being friends. Gentile worked as Malin's manager for several years and while she no longer has that role, the two have much in common when it comes to their taste in music, even though Malin leans Ameriana these days and Gentile tends to go in a garage-rock direction. Gentile, who's released a terrific EP earlier this year and has a full-length coming out next year, and Malin, who dropped his latest solo effort,
Sunset Kids
, earlier this year, have teamed up for a few Midwest dates, including tonight's gig at the Beachland. (Niesel) 8 p.m., $18 ADV, $20 DOS.
Beachland Tavern
.
The Prince Experience
Since 2002, singer-guitarist Gabriel Sanchez portrayed Rock Hall Inductee Prince. Tonight, he brings his show dubbed the Prince Experience to town. Sanchez, who looks very similar to the diminutive Prince, will play all of Prince's biggest hits, including tracks such as "Little Red Corvette," "Let's Go Crazy," "When Doves Cry," "Kiss," "1999" and "Purple Rain." Expect to hear over-the-top guitar solos and a potent mix of funk, rock and R&B in this tribute to one of music's most creative artists. (Niesel), 8 p.m., $20-$30.
Music Box Supper Club
.
SATURDAY, NOV. 9

Bob Dylan & His Band
When singer-songwriter Bob Dylan played E.J. Thomas Hall a few years ago, he appeared to truly enjoy performing at the intimate space. Opener "Things Have Changed" set the mood for the two-hour concert that found Dylan standing at the microphone stand and swaying back and forth under dim lights as if he was a boxer who'd already been through a few tough rounds of fighting. He cast a spell as he sang in a voice so raspy, it made him sound a bit like Tom Waits. Expect the erratic performer to be in good form at tonight since the venue seems to suit him so well. (Niesel) 8 p.m., $79.50.
E.J. Thomas Hall
.
Incubus/Le Butcherettes
During the course of its career, the alternative rock act Incubus has sold over 23 million albums. It's continued to tour and record even if its albums don't go platinum anymore, and earlier this year, it announced plans for a tour to celebrate the 20th anniversary of
Make Yourself
. That tour comes to town tonight. (Niesel) 8 p.m.
Akron Civic Theatre.
Vanity Crash/Brian Hager & the Sky Rockets
Brian Hager & the Sky Rockets, the new band featuring Brian Hager, the former guitarist of Cleveland-based glam rock outfit Vanity Crash and current guitarist in Travis Haddix's band, will make its debut tonight at CODA in Tremont. Hager, who previously played in the local act the Tie Downs, describes the group as "an original glam rock 'n' roll band with old school influences such as the Rolling Stones, David Bowie during his Ziggy Stardust days and Marc Bolan's T-Rex fused with a hint of '90s rock alternative." Hager recruited fellow Haddix bandmate, Ed Lemmers, to play bass and Rick Snider to play drums. Vanity Crash, who's also on the bill, will play a set of original music and a set of Bowie tunes. 7 p.m., $7.
CODA
.
SUNDAY, NOV. 10
Danny Brown/Ashnikko/Zeelooperz
Nearly ten years 2010, after issuing several mixtapes, this Detroit rapper issued his debut studio album,
The Hybrid
, to much acclaim. He continues to regularly tour and record, and his new album,
U Know What I'm Sayin?
, marks a "buoyant new chapter" in his career as "a ubiquitous entertainer, independent rap hero and one of the essential cultural voices of this era. The album is executive produced by Q-Tip, and features production by Q-Tip, JPEGMAFIA, Flying Lotus, Paul White, Standing on the Corner and more. Tracks such as "Change Up," a song with snarling vocals and rattling percussion, possess a real fierceness that suggests the man's talent. (Niesel) 8 p.m., $25 ADV. $30 DOS.
House of Blues
.
Tiffany/The Sunrise Jones
The '80s were a whirlwind time for Tiffany. She became one of the youngest artists to have a No. 1 album at 16 years of age with her self-titled 1987 debut. The success of that record was surrounded by two No. 1 singles, "I Think We're Alone Now," her version of the Tommy James and the Shondells classic, and the emotional ballad, "Could've Been." The rise of the album and singles was fueled by heavy airplay on the radio and MTV — and memorably, a grassroots tour of shopping malls across America. The veteran vocalist has put out a regular stream of albums across the years and is understandably proud of her latest,
Pieces of Me
. The record finds her digging deep emotionally, turning out a set of songs that are squarely placed in the rock vein and have an organic and live feeling to the way the recordings capture the band performances. 7 p.m.
Music Box Supper Club
.
Sign up for Scene's weekly newsletters to get the latest on Cleveland news, things to do and places to eat delivered right to your inbox.