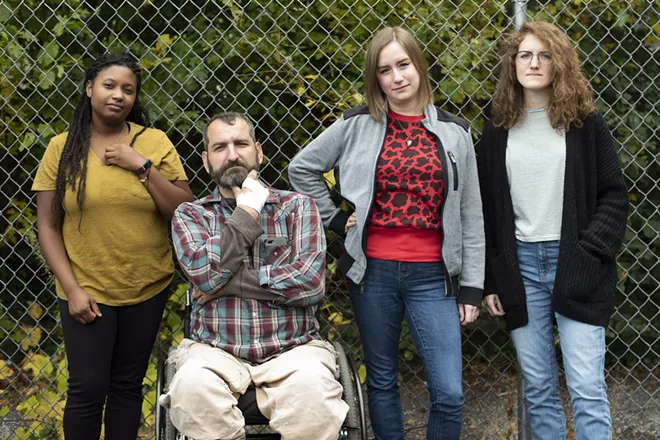 Photo courtesy Squoia Bostick
Genghis Con organizers (left to right) Sequoia Bostick, John G., Clare Kolat and Amalia DeGirolamo.
Genghis Con founder John G. says he never imagined his event celebrating Rust Belt cartoonists and authors would last longer than a decade.
"No, I never could have predicted this," John G. admits, currently in the thick of readying for this year's edition of the small press and indie comic con. "We're always taking it one year at a time."
Come Sunday, Dec. 1, Genghis Con is headed back to Cleveland for its 11th installment, taking over the Tenk Building in the West Bank of the Flats. This time around, John G. recruited Cleveland artists to help organize the event and to select the lineup of exhibitors.
That includes Sequoia Bostick, co-founder of Cleveland's
Vagabond Comics
, who says the event was instrumental in helping her get a start in the local scene when she'd just graduated from art school. Now she says the event is working hard to continue to foster new talent.
This year's
exhibitors,
pared down from a list of nearly 150 applicants, are a mix of artists from all over the state, the country and one coming from Toronto. The beauty of the event is that home-grown comics creators you've heard of, like
Derf
, are showing right next to up-and-comers.
For the uninitiated, the event is similar to other makers' markets or local bazaars, only this time, booths are filled with independent writers and artists touting their zines and comics and other affiliated goods. This year, the Weird Realms DIY Game Room is also making a return, which highlights locally produced board games and role-playing games (think Dungeons & Dragons) —and don't worry, the rules will be explained.
Last year's event pulled in more than 1,000 attendees, John G. says, back when it was at the Screw Factory. That number has grown incrementally year by year since its start at the Beachland Ballroom.
"I do think that the focus on independent, rather than commercial products or culture, is something people are more interested in," John G. says. "And it comes from this desire to support it and also be a part of it. [Our event] feels more authentic, not that there's anything wrong with loving mainstream culture. But it's about this authentic experience rather than a packaged thing you can get anywhere."
There are still some unknowns for this year's event, like which food trucks are coming and the particulars of the pre-party, but, as always, the event is family-friendly, free and seriously open to all. The show runs from 2 p.m. to 7 p.m. at 2111 Center St.
Find out more at
GenghisconCleveland.com
.
Sign up for Scene's weekly newsletters to get the latest on Cleveland news, things to do and places to eat delivered right to your inbox.