When Constantino's Market closed its Lakewood grocery store, it was a sad day for the family-run business, which also operates stores downtown and in University Circle. But the closure also provided one family member with the opportunity he had been waiting for for years: the ideal property for Immigrant Son Brewery.
"There are so many things that are absolutely perfect and serendipitous to it, including down to the design of the building," says Andrew Revy, who is the brewery's founder.
This will be Lakewood's first and only brewery, Revy adds, likely because securing the right building at the right price with sufficient space and adequate parking is nearly impossible. This one clocks in a 9,000 square feet, is family owned, and comes with a generous parking lot capable of accommodating 38 cars.
"It's almost turnkey except for the brewery equipment, the brewpub, the brewer..," Revy jokes.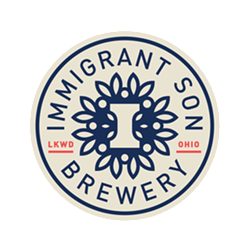 Revy says that he's had the concept for Immigrant Son fully formed in his mind for years, and when the building became available, he set those plans in motion.
"I've been wanting to do a brewery for a very long time," he explains. "When the name came to me a few years ago, it really resonated. I'm a first-generation American; my parents are from Hungary, who came here two weeks before the revolution. So, I'm an immigrant son. My heritage is very important to me, but so is growing up here in Cleveland, which is very much a melting pot city. Once I started diving deeper into this, even outside my own personal experience, you realize that beer is part of every culture. People brought their beers with them when they immigrated here."
Immigrant Son
(18120 Sloane Ave.), in Lakewood's West End, will be a full-on brewery and brewpub, with equal emphasis placed on both the food and beer. The building will be split equally between the two endeavors, with a 10-barrel brewery in one half and the 200-seat bar and restaurant in the other. On tap will be 20 house beers, but also a full cocktail program and wine list.
The brewer will be Cara Baker, a name that will be familiar to most brewers in Northeast Ohio.
"I'm really excited about our brewer," Revy adds. "She's very much entrenched in the scene. She's very well respected for her knowledge and passion. She's very talented, let me tell you. But it's also really great to have a female brewer in this very much male-dominated industry."
The brewery will be separate but visible from the pub thanks to windows and glass doors. The full-service restaurant will continue the immigrant theme with its New World meets Old World approach to food. Diners can look forward to elevated but approachable melting pot cuisine, dished up in a high-ceilinged space trimmed in a pleasing mix of wood, metal and glass.
Look for Immigrant Son Brewery to open sometime this spring.
Sign up for Scene's weekly newsletters to get the latest on Cleveland news, things to do and places to eat delivered right to your inbox.