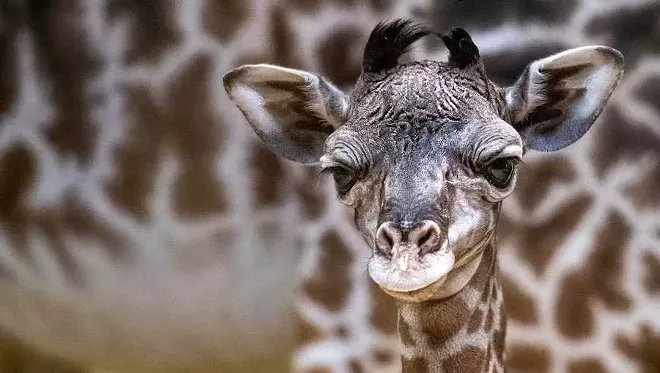 Photo via Cleveland Metroparks Zoo
Three bongos, three giraffes, three red river hogs and a springbok were all killed in a Thursday evening blaze at a barn that houses animals for the Port Clinton African Safari Wildlife Park.
The rest of the park's 300 animals are safe, per park staff, and there were no human deaths or injuries, but the tragedy has rocked the small park near Catawba Island. In a Facebook post (below), the park announced that it would be closed Friday.
The fire started shortly after six p.m., and local fire crews arrived within minutes, but the blaze had already engulfed the structure. Staff were able to rescue many of the animals and direct others — including the giraffe seen fleeing in
multiple Facebook images
— to safety. No cause for the fire has yet been identified.
The park opened in 1969 and is located on the Ottawa County peninsula, the gateway to the Lake Erie Islands north of Sandusky.
Our African Safari Wildlife Park team is devastated by the loss of animals housed in a barn destroyed by fire that was discovered early Thanksgiving evening. We are grateful that our staff is safe and no one was injured, but the loss of the wildlife that we care for every day is tragic for our team members who love these animals.

We are still assessing the loss of wildlife that was housed in the barn for over-night care and security. Park staff members are on the scene with firefighters and official responders. An investigation is underway into the cause of the fire.

The animals lost in this tragedy were part of our African Safari family, and the park will be closed on Friday as we mourn their loss and care for the other animals living on the 100-area park.

We deeply appreciate the first responders who worked on the holiday to try and save animals affected by the fire and thank the community for its support during this very difficult time. Again, we are grateful that our staff are safe, although we are all grief-stricken over this loss.

Sign up for Scene's weekly newsletters to get the latest on Cleveland news, things to do and places to eat delivered right to your inbox.