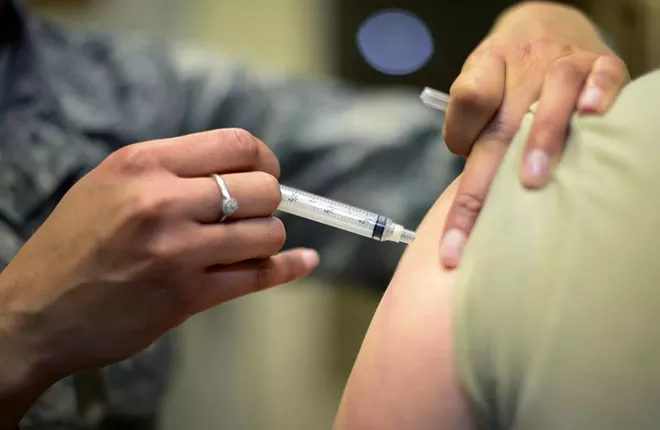 Photo via Wikimedia Commons
Last year's influenza season was far more mild than the one
previously
, but it wasn't without its own set of troubles.
The Centers for Disease Control and Prevention
reported
that the 2018-2019 flu season was the longest in a decade, running for a terrible 21 weeks. So even though far fewer people died or were hospitalized from the virus, Americans got sick over a longer period of time. Overall, about 42.9 million contracted the flu last year.
With the new influenza season revving up this past month, health professionals are once again imploring patients to protect themselves and get the flu shot. Every year, the flu shot's
effectiveness
differs, as scientists are guessing at which strains of the virus will rein supreme that season, but
doctors say
that the overall positive effects make the shot worthwhile for most people.
Now there are plenty of reasons people don't get that flu shot, but here are some of the excuses we hear the most often among our co-workers, family, friends and enemies:
-It hurts
Pinch your arm right now. A shot feels exactly like that. The uncomfortable part lasts a couple seconds. Breathe.
-It costs too much
Most insurance companies cover the shot as a preventative measure. Don't have insurance? The cost of a flu shot runs somewhere between $20-$40 and can be administered at a pharmacy such as Walgreens or Costco. Check out the most up-to-date prices right
here.
-I don't have time
Do you have time to scroll absentmindedly through Instagram right now? Then you have time for a flu shot, which takes just seconds to administer.
-I never get sick
There are those super humans among us who never fall ill. But it's more likely what you mean is that you never get sick enough to not come to work. Meaning you're the one in the office showing up with a slight fever, while hacking everywhere and leaving your snot rags around. It's time you thought of others.
-Isn't that just for old people?
It is true that the flu shot is highly recommended for older individuals, and people with compromised immune systems. But the shot is recommended for most other people, too.
For clarification, no one on the Cleveland Scene editorial staff is a medical doctor. Do consult your own doctor before getting the flu shot.
Sign up
for Scene's weekly newsletters to get the latest on Cleveland news, things to do and places to eat delivered right to your inbox.