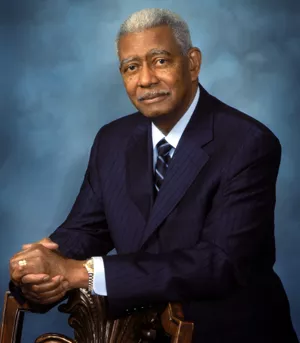 Courtesy of the Maltz Museum
The Maltz Museum of Jewish Heritage
will once again feature a day of free programming on Monday, Jan. 20, to celebrate the life and legacy of Martin Luther King Jr. Day. The free all-day event will feature three special programs, including a sermon by Cleveland's Rev. Dr. Otis Moss Jr. [pictured], a performance by the Evelyn Wright Quartet and a screening of the documentary film
Soundtrack for a Revolution: Freedom Songs from the Civil Rights Era
with a talk-back by local musician Kyle Kidd.
The Rev. Moss Jr. lecture will commence with welcoming remarks from Rabbi Jonathan Cohen. After Moss's sermon, Dr. Sharon Mulligan, Associate Dean for Academic Affairs and Chair of the Master of Science in Social Administration (MSSA) at Case Western Reserve University, will interview the reverend. An audience Q&A will follow.
"Reverend Moss is a founding member of the Maltz Museum," says David Schafer, Maltz Museum's Managing Director, in a statement. "I've known him many years. Each opportunity I have to talk to him is a gift. He lifts me up, as he does everyone who meets him. We are honored that he will join us on this important day to share his wisdom and perspective."
The Evelyn Wright Quartet will play blues, jazz, gospel and songs from the Great American Songbook in a one-hour concert, and the documentary film includes interviews with people such as congressman John Lewis (D-GA), former Atlanta mayor Andrew Young, former NAACP chairman Julian Bond, freedom rider Hank Thomas, civil rights organizer Jim Lawson, former King aide Dorothy Cotton and singer Harry Belafonte.
Guests can also tour the galleries and participate in family friendly hands-on crafts and activities during the museum's hours (it'll be open from 11 a.m. to 5 p.m.).

Sign up for Scene's weekly newsletters to get the latest on Cleveland news, things to do and places to eat delivered right to your inbox.