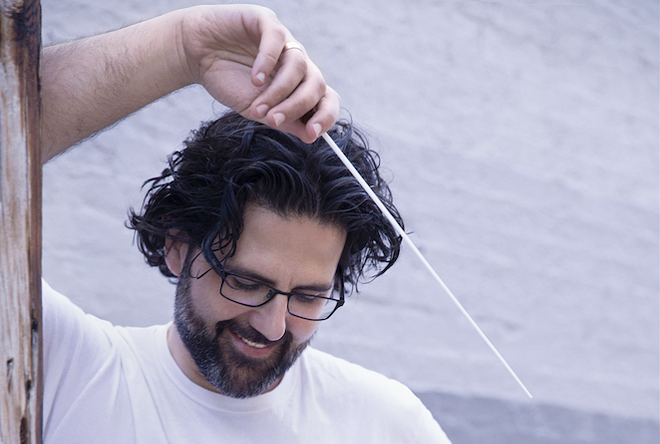 CityMusic Cleveland's upcoming free March concerts
(March 11-14) led by Music Director Amit Peled [pictured] will feature the world premiere of acclaimed jazz bassist and composer John Clayton's "New World Revisited," a work that represents "a continuum of Dvořák's compositional influence by African-American music."
The performances will feature Clayton as bass soloist and Cleveland lyricist artist Orlando Watson as a spoken word artist. The new work will be paired with Dvořák's Symphony No. 9 "From the New World" and jazz selections played by the Spirit of the Groove.
"Being also a cellist, Dvořák is a composer who has always been close to my heart," says Peled in a statement. "From his monumental cello concerto, which I began studying at the age of 12, to his beloved chamber works, to his majestic symphonies, he had countless influences, but it was his arrival in the United States in the 1890s that led to the creation of the Ninth Symphony, subtitled 'From the New World.'"
Dvořák's student at the National Conservatory – baritone singer, composer and arranger Harry T. Burleigh – introduced him to the sounds and soul of American spirituals, and the spirituals influenced the Ninth Symphony.
"We are honored to have the incredible musician, legendary bassist and composer John Clayton join us for the premiere of his new work, 'New World Revisited,' a work that combines these themes in a new light," says Peled, who likens the concert to "an incredible journey." "It has been a joy to get to know John and be swept into his world of sound through this magnificent work."
Performances take place at 7:30 p.m. on Wednesday, March 11, at the Dr. Wayne L. Rodehorst Performing Arts Center in Kirtland, at 7:30 p.m. on Thursday, March 12, at the Milton and Tamar Maltz Performing Arts Center, at 7:30 p.m. on Friday, March 13, at the Lakewood Congregational Church in Lakewood and at 8 p.m. on Saturday, March 14, at the Shrine Church of St. Stanislaus.
Note that the concert at the Milton and Tamar Maltz Performing Arts Center requires a
reservation
.
Sign up for Scene's weekly newsletters to get the latest on Cleveland news, things to do and places to eat delivered right to your inbox.