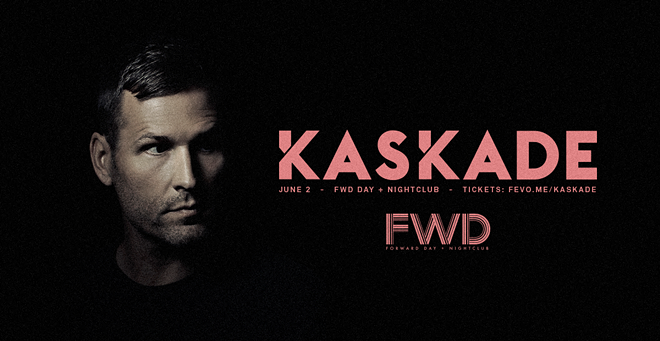 FWD Day + Nightclub
Flyer for Kaskade's upcoming gig at FWD Day + Nightclub.
When Ohio Governor Mike DeWine announced Ohio would open without restriction starting June 2, the team at Forward Hospitality immediately started searching for national acts to perform at their FWD Day + Nightclub. They've successfully booked Grammy-nominated singer, songwriter, producer and remixer Kaskade, who'll perform on June 2 at the venue located in the Flats East Bank that's hosted several major EDM acts over the past seven years.
The club's owners say they're excited about the upcoming Kaskade performance, which marks a return to normalcy for the venue and the city.
"In our view, June 2 is a historic date, and we felt like our team and guests deserved something special, so we worked incredibly hard to make this happen," say Forward Hospitality owners Michael Schwartz, Dante Deiana and Bobby Rutter in a statement. "Kaskade is the perfect act for the re-opening night because of the positive vibes that his music represents. Honestly, we hope it is therapeutic for people. The last 16 months have been brutal on our team; we hope this show marks the start of the best summer we have ever seen."
A legit talent, Kaskade has a Las Vegas residency and regularly performs at LIV in Miami in addition to headlining festivals such as Ultra, Electric Zoo, CRSSD and EDC.
Tickets to the Kaskade concert
can be purchased through the FWD Instagram page @fwdnightclub.
Sign up for Scene's weekly newsletters to get the latest on Cleveland news, things to do and places to eat delivered right to your inbox.