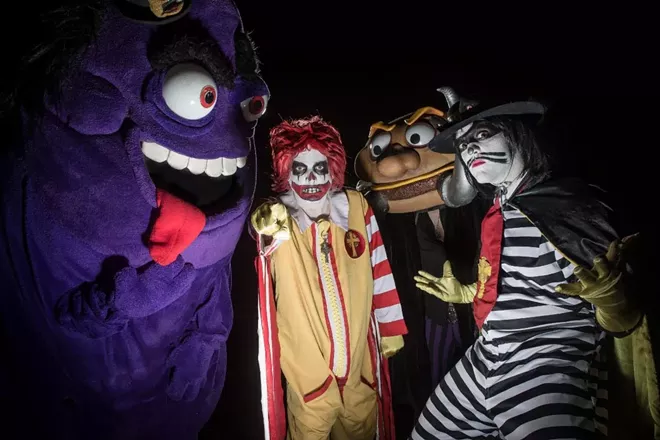 Jeremy Saffer
Mac Sabbath.
The hard rocking novelty act Mac Sabbath just announced it'll return to the road late this summer for its 2021 Pop-Up-Drive-Thru tour featuring special guests Speedealer and Lung.
The trek comes to Beachland Ballroom on Sept. 24.
Tickets to the Mac Sabbath Pop-Up-Drive-Thru tour
go on sale at 10 a.m. on Friday.
"Mac Sabbath will be popping up all over the States — just like in our debut release," says the band's clown-faced frontman Ronald Osbourne in a statement. "Confusing the USA one more time!"
Mac Sabbath recently revealed details of their first book,
Drive Thru Metal
, a hybrid pop-up book that takes fans on a journey through a "dystopian fast-food world polluted by its own waste."
Available via Poposition Press,
Drive Thru Metal
features illustrations by Gris Grimly, well-known for his darkly whimsical children's books and the upcoming Netflix film adaptation of his Pinocchio book, and will be available in Regular and Special Editions.
The band puts on a theatrical, multimedia stage show complete with a smoking grill, laser-eyed clowns, bouncing burgers and many more "magical surprises."
Sign up for Scene's weekly newsletters to get the latest on Cleveland news, things to do and places to eat delivered right to your inbox.