Cleveland APL
Full House at the Animal Protective League
The Cleveland Animal Protective League (1729 Willey Ave.) has announced that it's full up with cats and kittens. Due to the overload, it's offering steep discounts on adoptions this weekend, (June 3 - 6).
All cats five months or older will be $25 to adopt (regularly $50), and all kittens younger than five months will be $50 to adopt (regularly $125).
Visitor access to the APL facility is still restricted, but folks can check out the available felines — including "Felicia," pictured below —
at the APL's site
. Adopters can there fill out the paperwork virtually and set up an in-person appointment to pick up the kitties.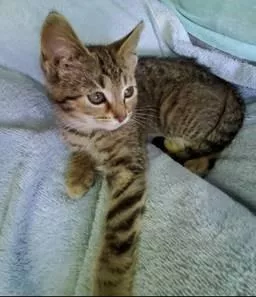 Cleveland APL
"Felicia," one of the elegant young ladies up for adoption.
"It's a Full House for felines at the Cleveland APL right now. Everywhere you look there's a face that wants to go home with you," said Sharon Harvey, Cleveland APL President & CEO, in a press release. "The television show Full House was all about family, and we know our cats will be a perfect addition to yours by adding lots of fun and happiness. We want to see adopters' homes full of love!"
***
Sign up for Scene's weekly newsletters to get the latest on Cleveland news, things to do and places to eat delivered right to your inbox.