Douglas Trattner
Formerly home to a blacksmith's shop, this building is now a wood-fired pizzeria.
The transformation from blacksmith's shop to spa to farmhouse-chic pizzeria is nearly complete. This weekend, chef Eddie Tancredi will put the finishing touches on
ETalian
(as in Eddie Tancredi + Italian) in downtown Chagrin Falls (13 Bell St., 440-600-2001). The restaurant is expected to serve its first guests this coming Tuesday, August 24.
Months of construction have netted an open, airy and attractive space with exposed brick walls, cathedral ceiling, original beams and new windows that look out onto the upper Chagrin Falls. When those large windows are ajar, the sounds of rushing water and honking Canada geese fill the room.
Filling the kitchen in a 6,000-pound imported Italian wood-burning oven that bakes pizzas in around a minute and a half. Options include a half dozen white and red-sauce pies with various toppings. The 9-to-10-inch pies hover in the $9 to $10 range. The pies are joined by three salads, oven-baked cheesy bread and pane con gelato – essentially an Italian ice cream sandwich – for dessert. A selection of beer, wine and cocktails is also on hand.
Pizzas can be order unsliced, sliced or folded "wallet-style" for mobile enjoyment from a paper pouch. Options abound when placing an order as well. Diners can walk up to the counter to place an order and pay. They can instead head to a kiosk to do the same. Or they can opt to do it all online for easy pick-up. There is seating for 24 indoors plus another 30 on the front and side patios.
Tancredi is joined in the kitchen by chef Earl Warren, both of whom ran the show at Distill Table in Lakewood before that eatery shut down during the pandemic. Tancredi's partners in the project are Ed and Amy Weinfurtner, who own the building.
Douglas Trattner
The dining room at Etalian in Chagrin Falls.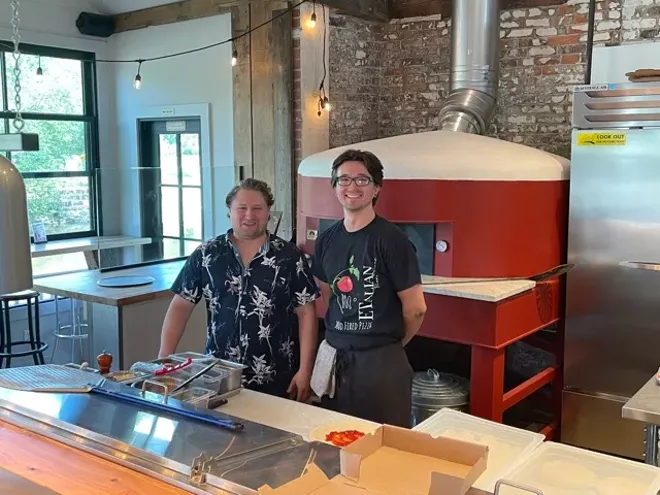 Douglas Trattner
Chef-partner Eddie Tancredi (left) and chef Earl Warren.