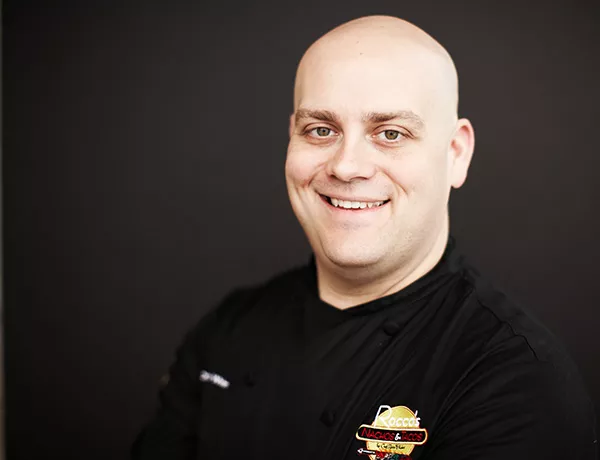 Courtesy Rocco Whalen
Rocco Whalen is moving his 20-year-old Tremont eatery Fahrenheit to Public Square.
Rocco Whalen will be taking his considerable culinary talents to downtown Cleveland. The veteran chef and owner of
Fahrenheit
(2417 Professor Ave., 216-781-8858) in Tremont and Charlotte, North Carolina, will be opening a new restaurant at 55 Public Square, which is in the process of a major renovation. The new Fahrenheit will be a two-story restaurant with rooftop seating in the long-dormant John Q's Steakhouse spot. Whalen says that he is shooting for third quarter 2022 for an opening.
"The developer really wanted a Rocco Whalen restaurant on Public Square," Whalen explains. "I've had eight years to carve my teeth in Charlotte on the rooftop. I think I know what we're doing and I want to have a little bit of fun, but also to make the restaurant what it should have been ultimately."
Whalen opened Fahrenheit in Tremont 20 years ago for just $50,000, he says. His success there as well as at the glitzy rooftop location in Charlotte are proof that he and his team are capable of performing at the highest levels of dining. And despite what we've seen occur in the hospitality sector over the past year and a half, Whalen is not afraid of the "F" word – as in fine dining.
"The space is going to be beautiful," he says. "It's going to be my energy wrapped around the hospitality arms of my team. I can't say that it's not [going to be fine dining]. There's going to be a dry-aged steak case in the dining room, a raw bar with oysters and crab claws. That's how I like to challenge my team."
The new Fahrenheit will occupy 8,000 square feet on the main floor and 4,300 square feet on the second floor, which will boast a rooftop seating area with views of Public Square.
Whalen says that the new Sherwin Williams HQ and it its 3,400 employees helped convince him to invest in downtown at a time when much of the dining energy seems focused on the neighborhoods. But he also says that he and others must contribute to the city's comeback.
"Cleveland has watched me grow," he says. "I want to do my part to bring downtown back or enhance it."
Whalen says that he will renovate and re-tool the Tremont restaurant, which he opened in 2002. He is still playing with a few concept ideas, but he promises that it will be a great fit for the neighborhood.
"I think the neighborhood is ready for me to shake it up a little bit," he says. "Tremont has been very good to me. I had nothing when I opened in that neighborhood. I had a will and a way."