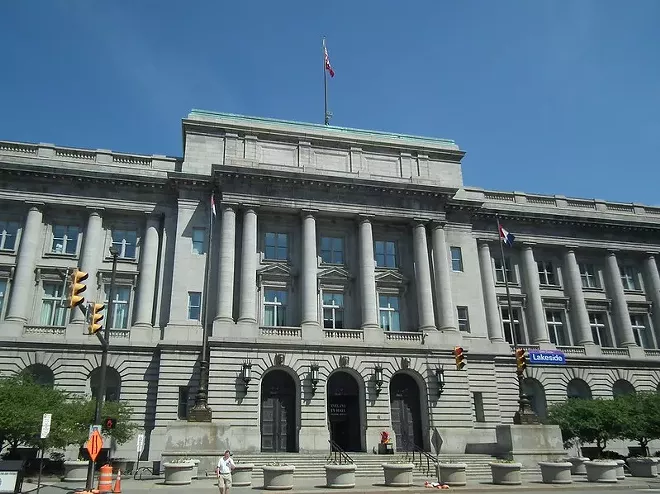 Cleveland City Hall, Erik Drost/FlickrCC
Could participatory budgeting come to Cleveland city hall?
Clevelanders today are voting in the primaries for city council and mayor. (If you haven't already voted, do so!)
Those results, and the ones from the November general election, will determine the fate of the city for the foreseeable future, with a new mayor for the first time in 16 years and several new city council members in key districts.
What kinds of policy changes can Clevelanders expect as leadership transitions?
One of them might be participatory budgeting, a non-conventional budgeting practice that involves a significant amount of resident input. Several council candidates have promoted this approach and mayoral candidates Ross Bibello and Justin Bibb have received endorsements from Cleveland's grassroots organization seeking to promote a shift towards participatory budgeting.
Others, however, including current officeholders, have argued that the city has long engaged in participatory practices when choosing how to spend its dollars. In fact, much of the funding that comes from the federal government through community development block grants include requirements such as community meetings to determine the best use of the funds.
That's not really what supporters mean when they advocate for participatory budgeting on a broad scale, but chances for the public to be heard are increasing. American Recovery and Reinvestment Act dollars coming to the city from the federal government will require resident participation to determine the best use of the money and new council practices allowing public comment during meetings will, hypothetically, give residents a chance to voice their opinions on how the city's budget is spent. These are still baby steps.
So, what exactly is it that mayoral and council candidates mean when they talk about a shift to a PB approach? A much larger, more expansive resident-led control of the city budget, beyond just a few programs or initiatives.
In cities across the globe, participatory budgeting goes well beyond a few meetings with post-it notes and stickers. Once passed by the legislature (in this case, the Cleveland City Council), a PB approach would require significant resident input in order to pass any budget — including the annual one. In the PB model, budget season does not start and end. It is constant. But how exactly does it work?
It begins with a set of rules and regulations, often outlined in the city legislation. These rules determine the exact conditions under which a budget can be passed and the roles and responsibilities of residents and council members in determining how dollars will be spent. These regulations usually involve the creation of resident groups that can meet regularly to debate and determine city priorities and cultivate consensus around the greatest needs and how to use the budget to tackle them. The regulations would also outline how these teams will be created, how the meetings will function, the duration and frequency of meetings, and how the larger public will be involved. They also establish the limits of council control of the budget and how/when council can make autonomous choices without the direct oversight of residents.
One those rules are established, they need to be properly implemented and fully supported by the city government. This might include setting aside specific spaces for resident meetings, putting out a call for interested residents to get involved and even setting up a website for residents to follow along with the process. Successful implementation also requires the support of city administrators who must be willing to shift from their old model of underreporting or never creating key performance indicators and easy-to-access budgets. Resident teams will need greater access to budget documents and internal-facing reports that justify expenses and show direct outcomes of these expenses. No doubt, it would be a hefty transition for administrators in a city like Cleveland, where this type of data is never freely shared and is rarely even provided when an information request is placed.
Indeed, in some cases, the established rules might allow residents to require that city departments construct their budgets from zero, rather than carrying over their line item amount from the last year. For example, a police department might have to submit a proposal for their departmental budget that justifies every expense rather than simply submitting their line item amount from the previous year plus a certain percentage. Teams of residents would then be given the chance to look at the department's proposal and decide whether each item is justified and whether the expense matches the city's needs. More officers might not be needed, according to the resident team, but more training for community outreach might be important. It would be up to the residents to make these decisions, and departments will need to be flexible and nimble enough to make those changes if they want any money at all.
What do council members and the budgeting department do during this time? Well, that would depend on the rules they've established. Oftentimes, council members support resident teams with information and data on the budget and even sit in on meetings to add their perspective and knowledge. City budget departments and the mayor's office usually offer technical and administrative support to the resident groups and act as the liaisons between individual departments and the teams. Council members and administrators may also step in where there is a lack of consensus within a team and worries the budget might not get passed in time. They may also be granted final say, within reason, on the budget allocations and some larger powers to take certain topics of discussion, such as completely disbanding the police department, off the budget negotiation table.
How successful is PB in other cities? It's doing pretty fucking well, to be honest. Several cities, including Baltimore, credit an expansive PB approach with their post-recession rebound. Others have seen an increase in resident engagement and support for the city government, as well as better interactions between residents and the city since instituting PB practices.
However, there can also be tensions in a PB model, particularly when the rules of the approach or the implementation do not deal directly with the imbalance of information and insight. Residents might suggest ideas that are simply unworkable or impossible, due to the limited insight that are given from the city, which then forces the city to pass a budget that is not the one residents have agreed on or discussed. In other cases, elite residents might monopolize the process and keep many important voices out, pushing the city to adopt a budget that is not in line with the actual needs of residents and the priorities that many administrators might be working towards. And still in other instances, technical knowledge, such as the costs of a functioning program, might not be given over to residents, causing them to unintentionally terminate important programs because they institute budget reductions that essentially force programs to fail.
Overall, like many municipal practices, the effective use of the PB approach requires a thorough attention to the key elements of the program as well as constant maintenance. While Cleveland does currently allow and sometimes require resident input for various efforts, it has not adopted a wholesale approach to institutionalizing resident engagement and oversight. The legislature's spending practices are not monitored by residents and administrative budget priorities are not determined by residents. A PB shift, if planned and executed properly, could give Clevelanders true control over the city's goals and visions and make residents the ones who really decide how the city operates.