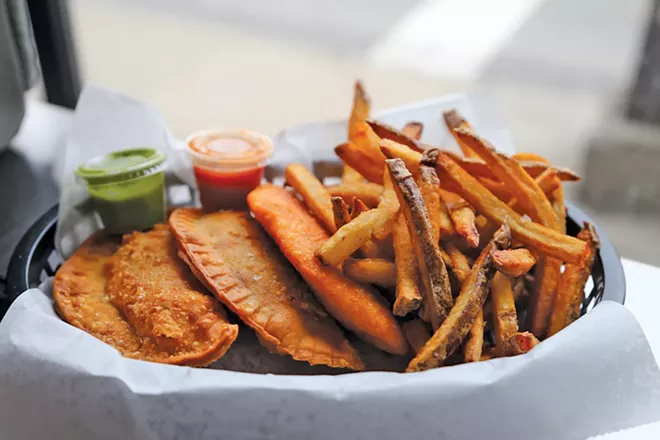 Photo by Emanuel Wallace
Half Moon Bakery is participating in Latino Restaurant Week.
The Northeast Ohio Hispanic Chamber of Commerce launched the 1st Annual
Latino Restaurant Week
in 2017 as a way to support and promote local Latino restaurant owners. This year's event runs from Oct. 3 to Oct. 9 as part of the Hispanic Heritage Month celebration.
As with most "restaurant weeks," this one offers guests of participating restaurant special deals, dishes and pricing. Below is a list of some of the places taking part. Call or visit this week.
Twisted Taino Frappe Bar & Grill – 5633 Pearl Road Parma, (216) 939-5444
Antojitos y Pupuseria Guanaquitas – 2998 W. 25th Street Cleveland, (216) 862-1082
Half Moon Bakery – 3460 W. 25th Street Cleveland, (216) 772-2499
Blue Habanero – 6416 Detroit Avenue Cleveland, (216) 465-1818 & 8934 Brecksville Road, Brecksville, (440) 630-9499
The Campus Grille Latin – 10 Seminary Street Berea, (440) 243-4229
Empanadas Latin Street Food – 5543 Ridge Road, Parma, (440) 340-5618
Barroco – 12906 Madison Avenue, Lakewood (216) 221-8127, 287 Crocker Park Blvd (440) 641-1283, Westlake, 3941 Erie Street 2nd Level, Willoughby (440) 527-8125
Hola Tacos – 12102 Madison Avenue, Lakewood (216) 801-4666, 12718 Larchmere Blvd, Cleveland (216) 938-9301, 3941 Erie Street 1st Level, Willoughby (440) 527-8101
Sabor Miami Cafe – 4848 Broadview Road, Cleveland, (440) 714-0202
Nuevo Acapulco Mexican Restaurant – 21750 Lorain Road, Fairview Park, (440) 734-3100